General information
With CirclCI, your teams of developers gain in agility. Everyone works independently, asynchronously and in complete autonomy. Once a feature is done or a ticket is processed, code goes through an automated pipeline before being deployed to production.
This continuous integration process allows you to go fast while ensuring that only clean code will be shipped.
Bottlenecks are also over: deployment is continuous. But every piece of code is tested before it's merged and put into production. Uninterrupted speed and security for your app or software.
Secret's take
Everyone talks about continuous integration, but few really master it. With CirclCI, not only do you buy yourself peace of mind, but your development and deployment processes become truly continuous.
Premium deal
Accessible to Unlimited & Premium members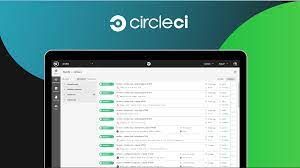 12 months free
This deal was redeemed 16 times during the past 90 days.
Upgrade to get deal
Eligibility requirements
Startups with under $4 million in funding
Offer also valid for existing CircleCI customers paying under $100 on a monthly subscription
This deal is also available for existing customers. You can add the credits to your account if you're already using this service.
CircleCI features
Create and deploy applications and software quickly and securely
Compatible with all languages

C ++, Javascript, .NET, PHP, Python or even Ruby. You can use the language and framework that suits you.

Security

Whether hosted on our cloud or on your local servers, your code benefits from the highest security.

Customization of your processes

You have full control and all the flexibility you need to configure your development processes: build, test and deploy.

Advanced cache features

Speed up your CI processes thanks to powerful caching options (images, source code, dependencies, etc.).
Are you providing consultancy or resources on this tool?
Contact us at experts@joinsecret.com to promote your expertise to our community of startups
Contact us