General information
Versatile Compatible with your desktop, laptop, smartphone, or gaming device, this monitor can provide you with the tools to increase your productivity or give you something fun on the go.
Premium Design Made from highly portable and durable aeronautical grade aluminum, our monitors are the perfect on the go companion for the park bench, shared workspace, coffee shop, and just about anywhere else you want to go. With an espresso Display, you've got the freedom to choose.
Thinnest, High Quality Display At just 5.5 mm thin, with 1920 x 1080 resolution (141ppi), 99% sRGB, and 300 nits brightness, our Display is premium quality.
Easy Portrait and Landscape Mode Magnetic features allow you to set up the espresso Display with the MountPro or MountGo, so you can view your screen vertically or horizontally, any place you want.
Dual-layer Glass Touch-Screen. Touch screen technology increases ease, speed, accessibility and mobility. Unleash more power from your current device with a smooth touch experience.
Free deal
Accessible to all for free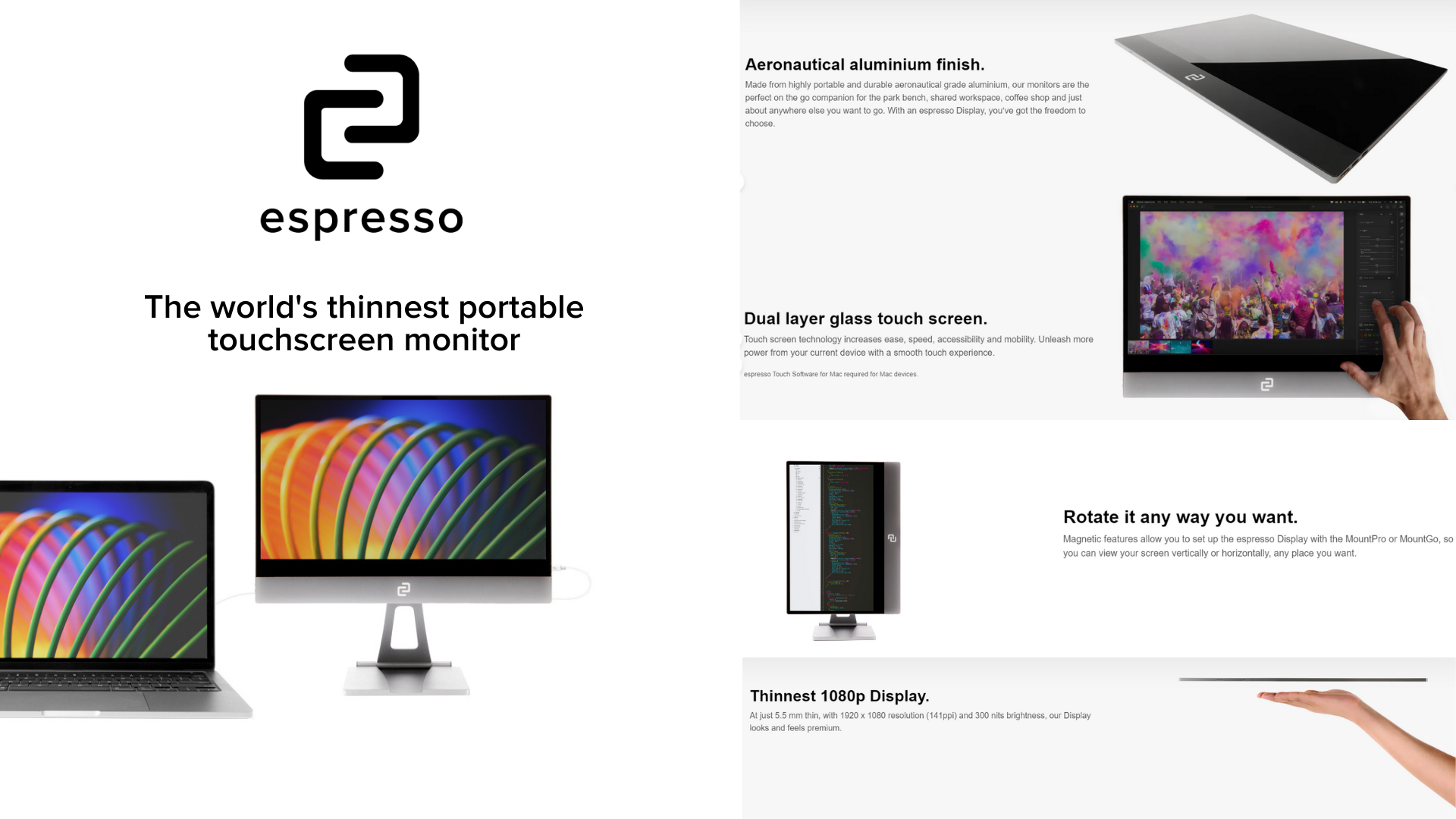 Free MountGo and FlipCase with a Display purchase
This deal was redeemed 17 times during the past 90 days.
Upgrade to get deal
This deal is only available for new customers.
Free MountGo and FlipCase with a Display purchase. Only for the first 50 orders
Espresso Display features
"This portable screen could change your life" - Financial Review




"Espresso Dipslays makes the gorgeous external touchscreen your MacBook needs" - Cult of Mac

"This portable Display brings touchscreen to Mac" - Forbes

"The espresso Displays is a cut above the competition" - TechCrunch
Are you providing consultancy or resources on this tool?
Contact us at experts@joinsecret.com to promote your expertise to our community of startups
Contact us