General information
Form the right way. Glide through the company formation process safely. Get important features that online legal services typically miss.
Reap the benefits for life. By forming your startup on Clerky, you're setting it up with lifetime access to best-in-class software, products, and support.
Premium deal
Accessible to Unlimited & Premium members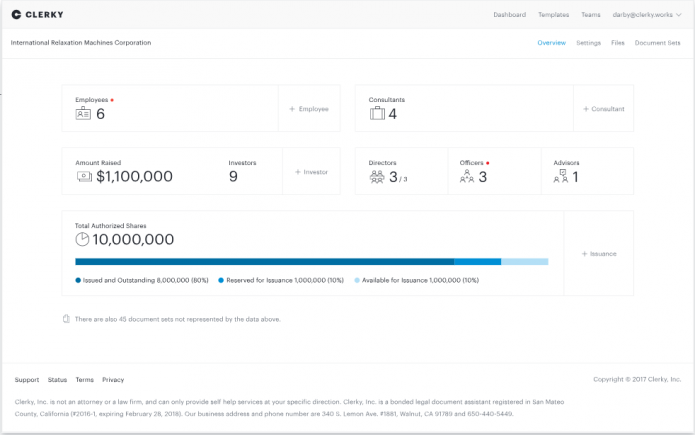 Company Lifetime Package for $699
This deal was redeemed 11 times during the past 90 days.
Upgrade to get deal
This deal is only available for new customers.
This offer is only available for C Corporations (any corporation that is taxed separately from its owners)
Clerky features
Formation Incorporation, Post-Incorporation Setup, Stock Plan Adoption, Foreign Qualification

Fundraising: Board Consents, Safes and Convertible Notes. Valuation cap, discount, or both. Other variants available by request.

Hiring: Offer Letters, Consulting Agreements, Advisor Agreements, Confidential Information and Invention Assignment Agreements, Restricted Stock Issuances, Stock Option Issuances (Regular and Early Exercisable)

Commercial: One-Way NDAs, Mutual NDAs

Maintenance: Add or Remove Officers, Add or Remove Directors, Corporate Name Change, Increase Number of Authorized Shares
Are you providing consultancy or resources on this tool?
Contact us at experts@joinsecret.com to promote your expertise to our community of startups
Contact us