General information
Miro is a fast, free, and simple to-use online whiteboard built to help you collaborate with others anytime, anywhere.
Miro's infinite canvas gives you the freedom to choose how you use it to work with your team. Whether you're hosting a digital brainstorm, documenting a meeting, teaching a class, or managing an agile workflow, the possibilities for collaboration are endless.
Invite users to your online board to brainstorm, take notes, and track projects. Use video conference, screen sharing, and presentation mode to run engaging meetings.
Not sure how to set up your online whiteboard? Browse Miro's pre-built templates! You can choose from ready-to-use maps, diagrams, project tools, kanbans, activites, and more - or create a custom template yourself and save it for handy access.
Avoid transcribing your ideas into a digital format. With Stickies Capture, you can snap a photo of your whiteboard, and instantly convert it into editable digital sticky notes.
Miro's apps and integrations help you stay in sync from idea through execution. All your favorite tools, connected in one place. Choose from 70+ apps and integrations including Coda, Airtable, Clickup, Hubspot, and Typeform.
Get started with Miro in seconds! Check out some tutorials to take full advantage of this infinite canvas.
Miro features
Collaboration made easy by Miro's Online Whiteboard
Create and innovate faster

Empower cross-functional discovery and brainstorming through an infinite canvas, robust set of widgets, API tools, and web plugins for teams, prebuilt templates and powerful platform capabilities. Miro presents an entire toolkit for user story or customer journey maps, wireframing, and more.

Make collaboration easier

Better engage distributed and remote teams in brainstorming, processes, workshops, and decision making with digital workspaces that enable asynchronous and synchronous collaboration

Centralize and standardize communication

Create a hub for cross-functional work that also works with all your other tools. Standardize and scale processes company wide for all-around digital transformation, whether your team of teams is entirely collaborated or distributed worldwide
Premium deal
Accessible to Unlimited & Premium members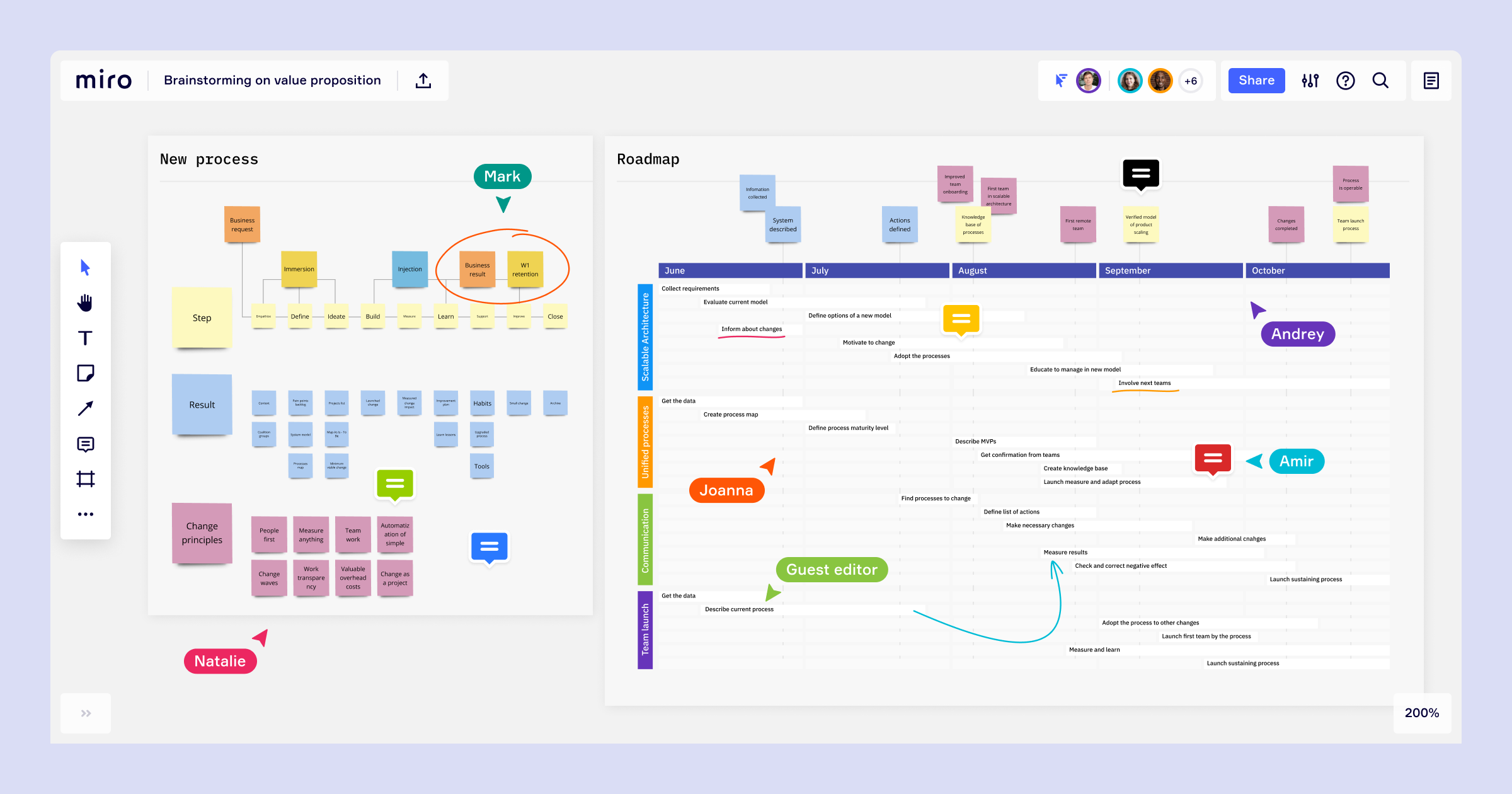 $1,000 in credits for Team plan
This deal is only available for new customers.
This offer is only available for startups.
Subscribe to Premium
Are you providing consultancy or resources on this tool?
Contact us at experts@joinsecret.com to promote your expertise to our community of startups
Contact us