General information
Take advantage of a simple tool and certified experts to improve your position on Google and increase your traffic. At Octopulse, we have developed a solution that can meet a critical need for a website: its traffic! Knowing that the first page of Google results represents 92% of traffic, a good positioning on search engines is the key to the visibility of your site. On the Octopulse app, you will find everything you need to improve your positioning easily. A free diagnosis to determine the natural referencing improvements (SEO) necessary for your site to be better understood by search engines. Track your position on 100 keywords to prioritize to be present on a larger search volume. Management of advertising campaigns to immediately boost your traffic with qualified prospects.
--
Octopulse
Octopulse is a SaaS offering different tools and services to help you optimize and monitor your ranking on Google.
SEO optimizations
Audit your site for free and quickly with Octopulse and access the optimizations that you should implement on your site in order to boost its visibility on Google. You can download the audit report if you want to see in detail the pain points our audit has emerged. If you need support, we offer to provide the implementation service for you. You'll get a custom made quote based on your needs and means. Thanks to the Secret offer, you will also have 10% immediate reduction on the service.
Position tracking
Do you want to see where you stand on Google compared to your competitors? With Octopulse, daily follow your position on the keywords you choose. You will be able to follow the evolution of your site on Google and quantify the impact of the optimizations that you implement on your site. Thanks to the Secret offer, you can enter up to 500 keywords! If you don't know which keywords to choose, our tool will suggest keywords related to your field of activity.
SEA campaigns
Sponsored referencing, or paid referencing, has the advantage of immediately bringing qualified traffic to your site. Octopulse offers you to take care of creating, monitoring and optimizing your Google Adwords campaigns. From € 200 per month, our experts take care of everything and report the results to you every month. You can customize your campaigns as you see fit.
Netlinking campaigns
Netlinking involves writing articles with links to your own site. The advantage is to improve its reputation with Google. We propose to write articles for you dealing with subjects relating to your field of activity and to insert one or more links pointing to your site in order to improve your notoriety with Google.
Basic deal
Accessible to Unlimited, Premium & Basic members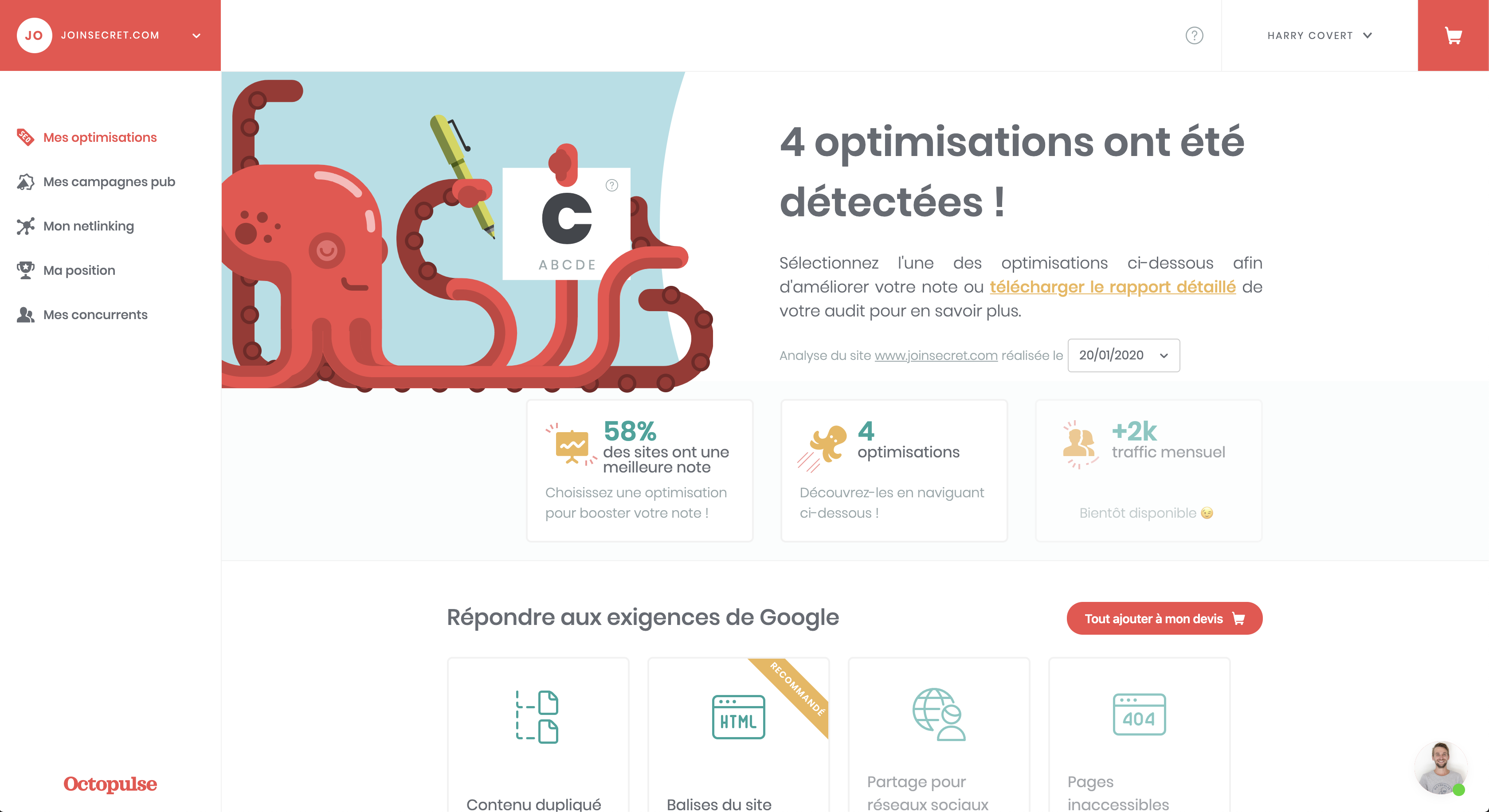 6 months free on Octopulse Pro + 10% off your first SEO order
This deal is only available for new customers.
Subscribe to Basic
Are you providing consultancy or resources on this tool?
Contact us at experts@joinsecret.com to promote your expertise to our community of startups
Contact us