General information
ProspectIn gives you the opportunity to optimize your LinkedIn prospection by allowing you to target and segment your audience to reach the right prospects.
Once your prospecting scenario is set-up, you can then automate the whole process whether it is connection requests on LinkedIn or gathering emails for your CRM. The tool will save you a lot of time, while enabling you to reach and win more leads.
Secret's take
LinkedIn is the ideal network for prospecing, but it takes lots of time to find the right contacts, add them to your database and try to convert them. With ProspectIn the whole process is automated to help you save time and get more customers.
Free deal
Accessible to all for free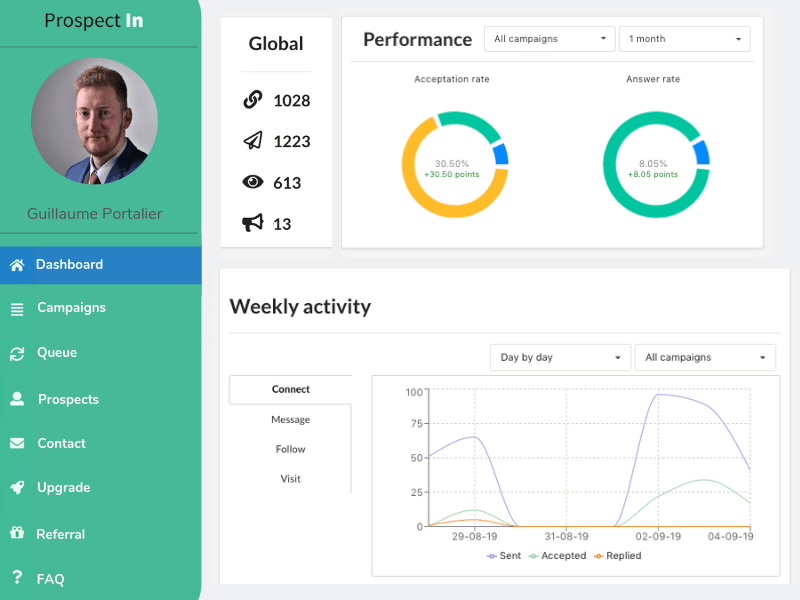 1 month free for Advanced plan
This deal was redeemed 44 times during the past 90 days.
This deal is only available for new customers.
ProspectIn features
A platform that automates and optimizes your LinkedIn prospecting process.
Create LinkedIn scenarios

Set up the right prospecting sequence for your needs and get qualified leads.

Use advanced triggers to initiate actions

Assign the actions you want to an event, in order to automate your tasks as much as possible whilst keeping a customized approach.

Import or export contacts

Easily add your contacts to ProspectIn, or export contacts from LinkedIn to your other tools.
Alternatives to ProspectIn
Are you providing consultancy or resources on this tool?
Contact us at experts@joinsecret.com to promote your expertise to our community of startups
Contact us