General information
Stop making mockups and start making real apps with Adalo. You're in complete control to add, adjust, or even build a new app to launch on app stores for both iOS and Android.
What can your users do with your app built on Adalo? Clients can view available projects and dive into details. They can easily make reservations, place orders, and pay for their food. Allow musicians, artists, and designers to reach out and chat with other creatives. You can even connect multiple apps together so that different users can have unique experiences.
Use Adalo's API to trigger push notifications for native apps and access and change the data in your collections.
Use Mixpanel with Adalo to let you understand how your users are using your app. Answer questions like "Which features are the most popular?", or "How fast is my user base growing?". Integrate Mixpanel's API with Adalo and it will automatically log every user action in your app so you can see user signups, which screens are the most popular and what your users do on those screens.
You can use Zapier to connect your Adalo apps with over 1,500 other services and platforms like Sendgrid, Twilio, Airtable, and Hubspot.
Jumpstart your app with one of Adalo's templates. Browse the community-created templates to begin your app-making journey. Each template comes fully-equipped with different screens, database collections, actions and more. Start customizing today!
Adalo's community-created cloneable kits are perfect to find beautifully designed user interfaces with the UI kits or to build out specific functionality with a Functional kit. These kits are smaller pieces that will round out your entire app. Simple clone the kit of your choice and begin.
Turn real ideas into real apps today!
Adalo features
With Adalo, building apps isn't scary, slow or expensive
Drag and Drop Components

Select from over 25 beautifully designed components (with more added all the time!). Simple lists, Stripe integration, text inputs, dynamic dashboards, and more!

Set Up Dynamic Actions

Actions bring your app to life so users can get around and create new things. Link the pages of your app together to bring your app to life

Easy to Create and Connect your Database

This is how you go from a fake prototype to a real app! Set up your app's database with simple spreadsheets and connect multiple apps together
Premium deal
Accessible to Unlimited & Premium members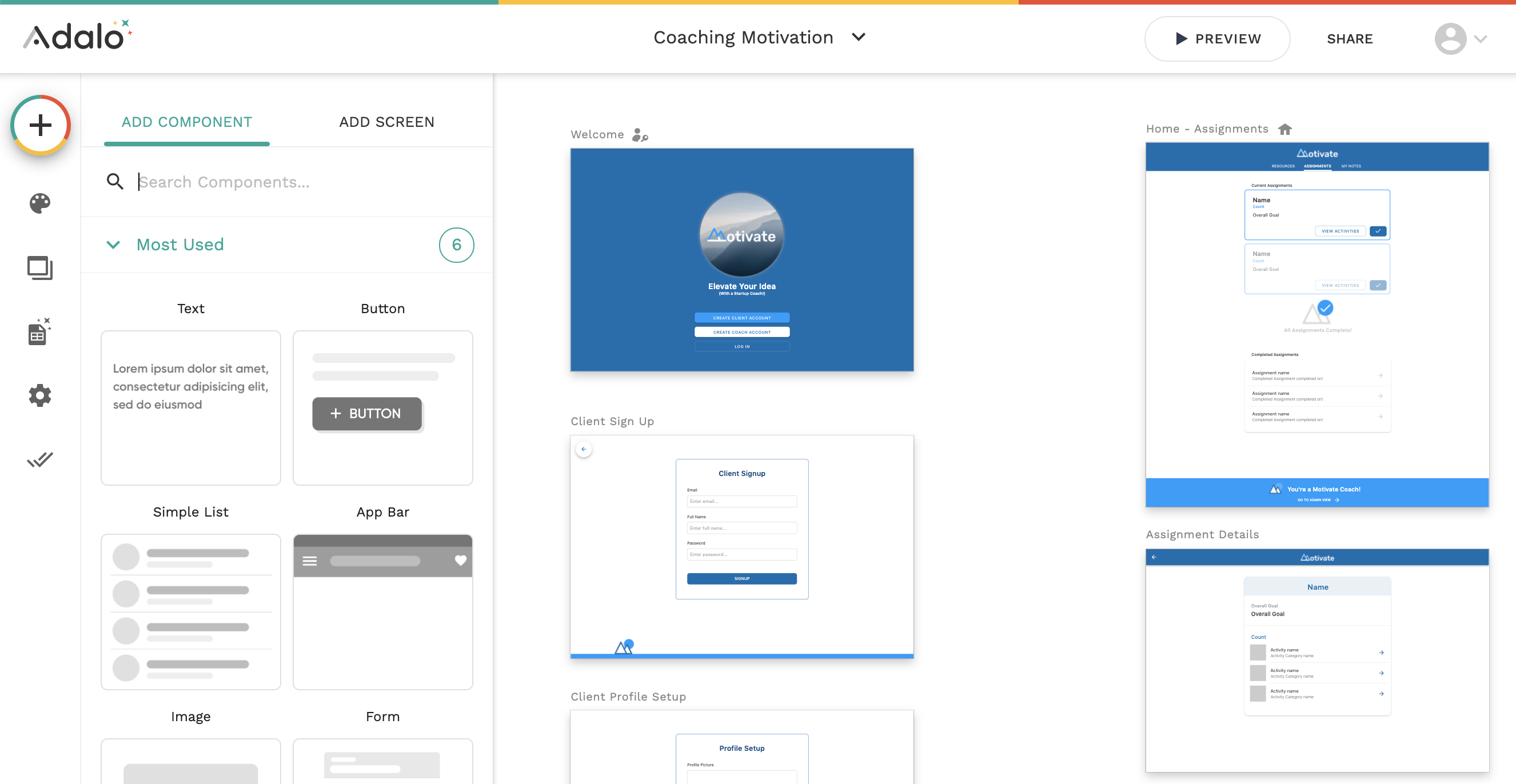 Are you providing consultancy or resources on this tool?
Contact us at experts@joinsecret.com to promote your expertise to our community of startups
Contact us