General information
Airtable is a SaaS platform that makes it possible to easily manage your business data without knowing how to code. You no longer need SQL, Excel and complex formulae to take back control of your data.
Airtable allows you to easily build and share relational databases. Put simply, a relational database is a complex set of tables (just like a good old fashion Google Sheet but much more powerful) that can be linked to each other and where you can store and organize your data and then retrieve it easily. For instance, you could have tables for a product inventory, a list of customers or employees, current transactions, an order book, etc.
Unlike Excel, Airtable makes it possible to easily create links between your different tables (customers, products, transactions, orders, employees, etc.) in order to obtain great visibility on your data, with just a few clicks.
Airtable features
With Airtable, easily create your own internal tools (project management, CRM, etc.) in order to make the most of your data.
Turn your data into actionable views

Your business data is always changing, the way you view it needs to be flexible too. Create views get and understand the data that matters and make the right business decisions.

Automate your data

Easily create workflows to automate your recurring tasks and business processes.

Get custom reports in a few clicks

Easily create and automate custom reports to see at a glance the information that is really important to your business.

Take advantage of hundreds of integrations and Airtable's powerful API

Connect Airtable to 1000+ apps like the Google suite, MailChimp, Dropbox, Facebook, LinkedIn, Stripe, Trello, Wordpress, etc.
Premium deal
Accessible to Unlimited & Premium members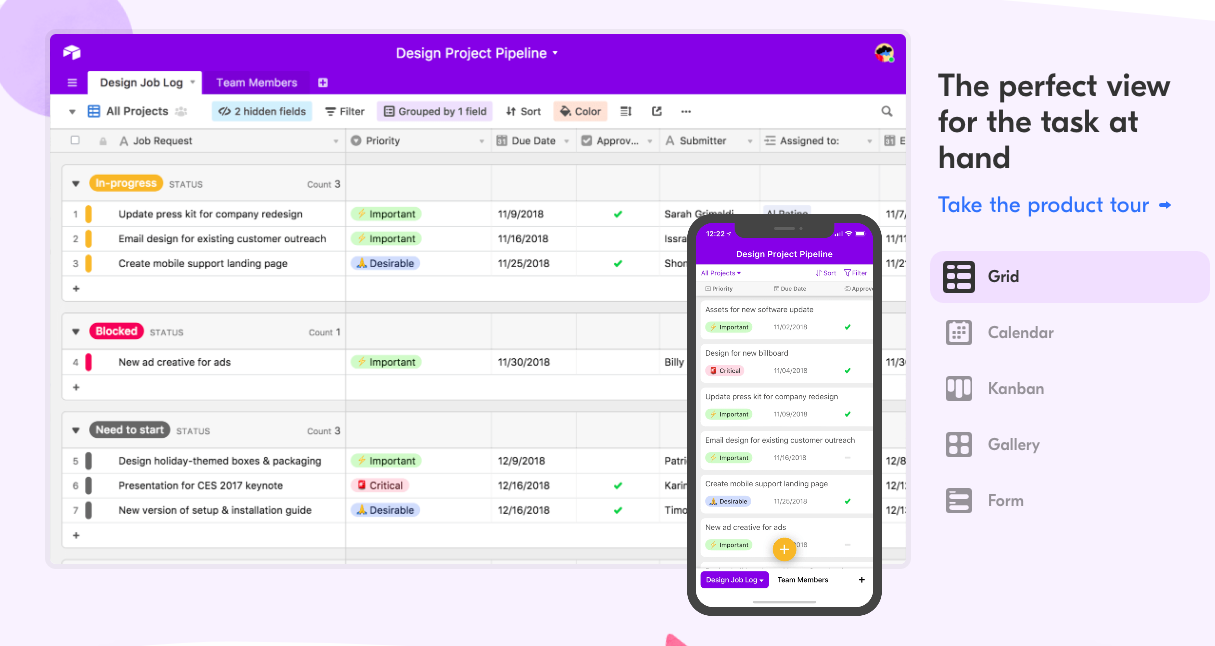 $500 in credits for businesses
Subscribe to Premium
This deal is also available for existing customers. You can add the credits to your account if you're already using this service.
Partner Agencies & Experts
It is with the greatest care that we have selected the best agencies and experts across the world to help you implement, use, and optimize Airtable .
Find more agencies
Relevant Resources
We've gathered a selection of resources that might interest you
Aron Korenblit | The Essential Guide to Airtable
The Essential Guide to Airtable is a free course that teaches you everything you need to know to be proficient in Airtable.
CF | Learn how to build online businesses with Webflow, Airtable & Zapier
Connor Finlayson is a No Code expert who helps entrepreneurs who can't code build and launch online platforms with No Code tools like Webflow, Airtable, and Zapier. Besides running his own No Code YouTube channel, he also runs Unicorn Factory, New Zealand's largest freelancer marketplace.
Rich Peterson | Template Road
Start your Airtable journey well with Airtable credits from Secret + the latest Airtable templates (most free) for you to use from Template Road.
Are you providing consultancy or resources on this tool?
Contact us at experts@joinsecret.com to promote your expertise to our community of startups
Contact us