General information
Get access to unlimited Airtable Bases, collections of related tables reflecting a single project, process, or workflow that you collaborate on with your team. Custom-built collaboration for your business with secure and flexible workflows that scale as your team grows.
Create with a database that fits your flow with Airtable. Add fields for attachments, long text notes, checkboxes, link, and even barcodes. Surface the data you need, ditch the data you don't. Add formulas to your field for functions, numeric operations, logical operations, and text operations.
Airtable allows you to design views and arrange your work using powerful filtering, sorting, and grouping. Extend your solution using Airtable apps. You can choose from over 50 prebuilt apps to bring your data to life found in Airtable's Marketplace.
Create custom notifications, automate redundant tasks, and orchestrate work via integrations. Integrate Airtable with over 1000 websites and apps like Zapier, Stripe, Typeform, Twilio, and more, or access your content programmatically with Airtable's robust API.
Take advantage of Airtable's templates built just for you and your project. Choose between Event Planning, Everyday Life, Startup, Local Business, and many more.
Collaborate with anyone, at any time, from anywhere. Edit, comment, and collaborate in real-time. Airtable's native mobile and desktop apps sync changes across everyone's devices.
Get started with Airtable today with multiple plans to choose from like Plus, Pro, and Enterprise.
Airtable features
Airtable helps you build collaborative apps for your projects and integrate with all your favourite apps and services
Revision history

Go back in time with record-level revision history and base snapshots. View a living history of all the changes that have been made to a single record and restore your base to a previous state.

Flexible reporting for your unique use case

Whether you're "no-code" or you "know-code", Airtable has the tools to show you what you want to who needs to see it

Knock down data silos

Align your team around a single source of truth with real-time data from different sources. Point. Click. Stay in sync

Transform your data into actionable views

Your business data changes, so how you view it should be flexible. Create the perfect view that's right for you.




Put your workflows on autopilot

Help your team go faster and focus on what matters by automating your processes in Airtable and beyond
Premium deal
Accessible to Unlimited & Premium members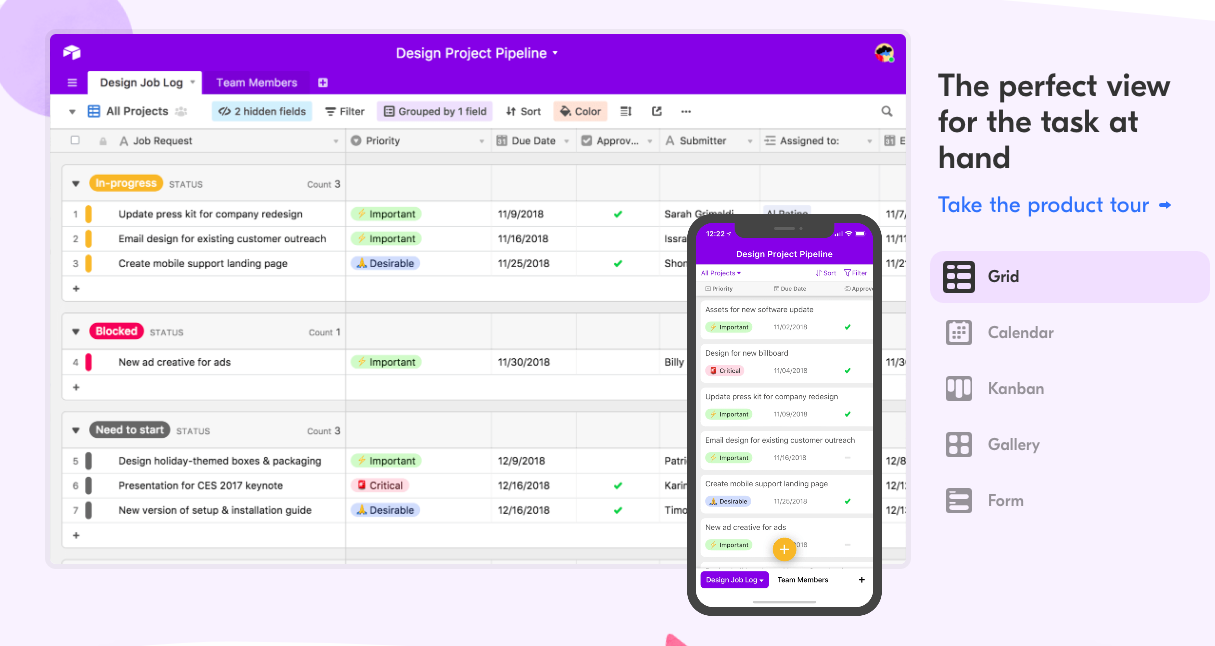 $500 in credits for businesses
This deal is also available for existing customers. You can add the credits to your account if you're already using this service.
Subscribe to Premium
Are you providing consultancy or resources on this tool?
Contact us at experts@joinsecret.com to promote your expertise to our community of startups
Contact us