General information
Docsend is a secure and simplified document-sharing platform. You can quickly share documents thanks to the platform's integrations, secure them with a password, define who has access to them, and check the number of views by each of your collaborators, as well as the time spent on each document. Thus, you can analyze who is interested in the content, make things easy for your collaborators or partners!
If you need signatures for your documents, no problem! The platform also offers an electronic signature system, to ensure that your document management is quick and easy.
Secret's take
Are you getting lost in the different tools you use to share your documents securely?
Centralize each document shared with your collaborators, analyze who views and spends time on them, and allow them to sign them electronically: and all of this on the same platform! Yes, you read that right. And that platform is Docsend.
Premium deal
Accessible to Unlimited & Premium members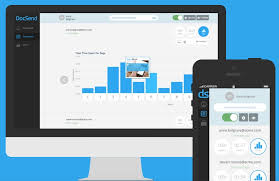 90% off your annual DocSend plan
This deal was redeemed 32 times during the past 90 days.
Upgrade to get deal
This deal is only available for new customers.
Docsend features
Manage document sharing easily and securely
Track and analyze documents

Find out who has opened which documents and which pages are performing the best so you can improve your future creations.

Secure document sharing

Share documents on one platform, update them when necessary, and define who can access them and for how long.

You can also add custom watermarks.

Share multiple documents in a single file

Create a virtual data room to add all the documents you want to share with the same collaborators using a single link.

Get electronic signatures quickly

Thanks to the electronic signature available in Docsend, your collaborators can quickly and securely sign your documents.

Simplify the signing of NDAs

Add the necessary non-disclosure agreements directly into the document sharing link to get signatures quickly and efficiently.
Are you providing consultancy or resources on this tool?
Contact us at experts@joinsecret.com to promote your expertise to our community of startups
Contact us