General information
With GetAccept not only can you create content tailored to your prospects, but you can also follow up on its progress until the closing of the sale.
Send prospects demos or personalized video presentations to get their attention, communicate with them by automated SMSs, or live chat and send short videos or branded documents.
Of course, all your creations are stored on the platform, so you can easily manage them and access a follow-up of the status of your documents. This way, you easily understand which ones have had an impact on conversion.
And to complete the sale, the platform even offers electronic signature! No more printing and scanning your contracts, or using tons of different tools.
Secret's take
A tool to create presentations, a tool to create videos, a tool to send them to your prospects, another one to edit a contract, and another tool for electronic signature.... That's a lot of tools, isn't it?
So why not start using GetAccept, and centralize everything in one platform? With just one tool, manage your sales process from content creation, to communication with your prospects, to closing the deal.
GetAccept features
Maximize engagement rate and get more sales.
Create personalized content

Create attractive presentations or personalized videos to contact and/or follow-up with your prospects.

Communicate with your prospects in real time

Communicate by SMS, or even by live chat to stand out and increase the chances of a reply.

Automate reminders

Schedule email sending, SMS or chat messages to avoid missing out on a high value potential prospect.

Keep track of documents

Receive a notification when a document has been opened or downloaded to find out which leads you should prioritize.

Easily manage contracts

Create your contracts or quotes directly from the platform and let your customers benefit from the electronic signature to close sales faster.
Basic deal
Accessible to Unlimited, Premium & Basic members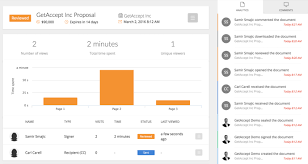 50% off any plans for 12 months
Subscribe to Basic
This deal is only available for new customers.
Are you providing consultancy or resources on this tool?
Contact us at experts@joinsecret.com to promote your expertise to our community of startups
Contact us