General information
Enhance your designs with high-quality vector icons, illustrations & stock photos. Choose from a pool of 2 Million+ assets from 2,000 contributors around the world. With our daily updating library, you'll never get out of selection. Iconscout is a place for all your design needs. We're on a mission to help the world bring design assets on hand. We're building the next-generation Design Resource Marketplace and Design Assets Management tools to simplified collaboration between designers, engineers, product managers, and teams across organization.
--
2 Million+ Icons, Illustrations & Stock Photos
Search from the world's largest collection of icons, vector illustrations & royalty-free stock images.
Unicons - World's new favourite icon font library
Icon font library with 2200+ icons in Line and Monochrome styles. Also, available as CSS, JS, React, Vue and React Native components.
Iconscout Plugins
Download our plugins for Figma, Adobe Xd, Sketch, Google Docs/Slides, Microsoft Office and many more.
Iconscout App for icons (Beta)
Get exclusive access to our upcoming desktop app. You can directly drag & drop icons right into the application you're using. Contact us to get an access.
Basic deal
Accessible to Unlimited, Premium & Basic members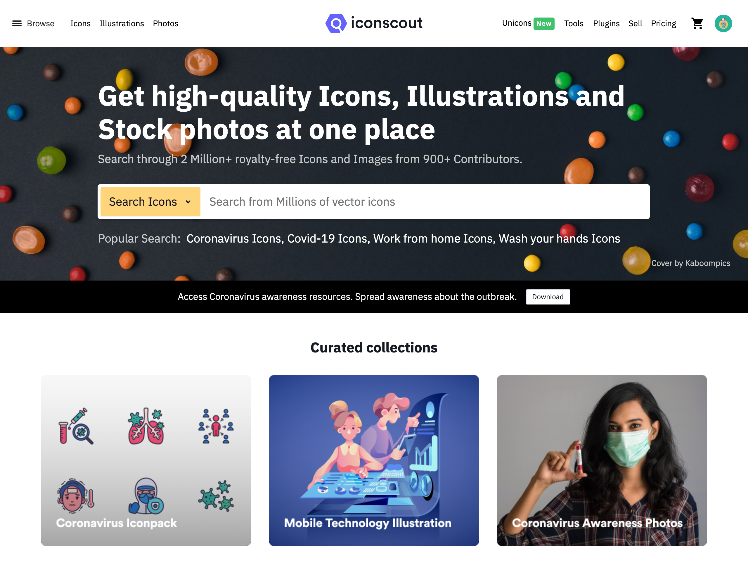 $69 preferred price for the Unlimited Icons + 10 Images plan
This deal is only available for new customers.
Subscribe to Basic
Are you providing consultancy or resources on this tool?
Contact us at experts@joinsecret.com to promote your expertise to our community of startups
Contact us