General information
Joonbot helps you guide, collect and send information to your audience in no time. Engage your audience, conduct surveys & quizzes , qualify leads, increase sales and speed up customer resolutions .Engage and convert your audience with a fun and attractive bots. Design bots that reflect your company. Choose your own text, color, videos, images and GIFs. Pick a template for every stage of your customer journey. Our bot platform is like building a flow chart. No coding is required. And connect Joonbot to your favorite apps using Zapier, our webhook or our native integrations!
--
Create custom bots in minutes
- Choose your own avatar, text with emojis, color, images, GIFs and videos
- Choose the format that suits your need: widget, modal or embed
- Allow your users to upload documents like a resume when it's useful
- Add Logic Jumps to personalize and segment your audience
- Use loops to build menus and FAQ categories
- Copy and paste 1 line of code and it's done!
Contextualize the appearance of your bot with segmentation features (coming soon!)
- Only display your bot if a user has scrolled the desirable percentage of a webpage
- Show your bot based on users' location
- Display your bot after the user has been inactive on the website for a while to boost user experience
- Display bots based on specific traffic sources and URLs such as Facebook and Google AdWords
- Use different bots depending on what devices your visitors use
- Target new or returning visitors depending on your goal
Connect your chatbots to your favorite apps
- Receive an email with transcript when someone ends one of your bot scenarios
- Notify in real time your team or bot's users by email with the information given during the conversation
- Automatically send data to your favourite apps with Zapier
- Use our native integrations to automate your process (Google Sheets integration is available)
- Push and/or receive data from your third-party apps. You can also add global variables to your bot
- Save data collected into variables that you can use after in the conversation, an email or an integration
Use actionable insights to improve your bot
- Get real-time data of your bot, such as number of views, conversations started, and engagement rate
- Track user response by analyzing your bot impressions, clicks, and engagement with Google Analytics Events integration (coming soon!)
- You can see if any of your questions are a huge turn-off for your audience, and which ones people like answering more. Same applies for FAQs (coming soon!)
- Measure the impact of our bot on your target audience with Google Analytics Goal tracking (coming soon!)
Basic deal
Accessible to Unlimited, Premium & Basic members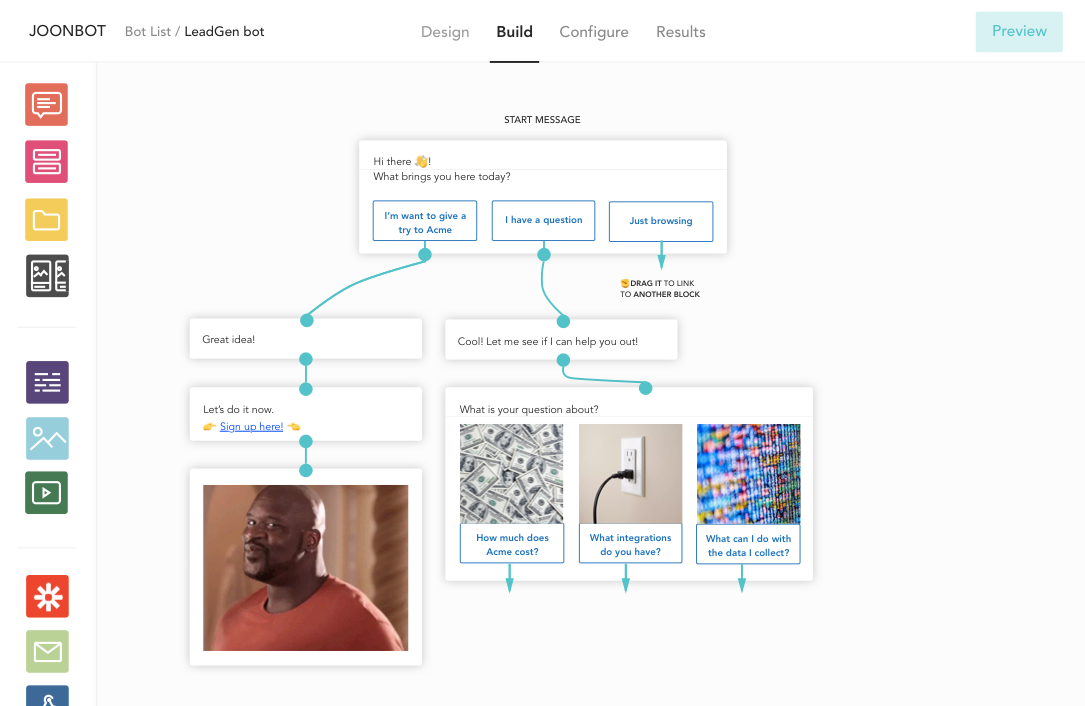 50% off all monthly and yearly plans (lifetime)
Subscribe to Basic
This deal is only available for new customers.
Are you providing consultancy or resources on this tool?
Contact us at experts@joinsecret.com to promote your expertise to our community of startups
Contact us