General information
Landbot empowers your marketing, sales, and customer support teams with an easy-to-use intuitive chatbot builder and conversation manager. Capture, qualify, and convert leads, engage your customers, and provide them with exceptional support 24/7with chatbots on your website, WhatsApp, or Facebook Messenger. Work with an interface that makes bot building, fast, efficient, and code free. Create bots assistants for support, feedback collection, product recommendation, engagement, lead qualification, bookings, FAQs, and more… Interact with your customer base at every stage of their journey from the first touchpoint to repeat purchase. Keep the conversations alive!
--
Create Powerful Chatbots in Minutes
No need to be a coding expert. With Landbot's friendly drag and drop interface, anyone can compose conversational flows in a matter of minutes. Pre-formated question types such as buttons, picture carrousel, multiple-choice, rating, and more make creating engaging customer experiences a piece of cake.
Integrate Bots with Tools You Already Use
The true power of bots lies in their ability to connect with your favorite tools. Landbot offers a plethora of easy-to-set-up integration options including Google Sheets, Slack, Salesforce, Mailchimp, Stripe, Google Analytics, Clendly, Zoom, Airtable, and Zapier that can connect you to thousands of apps in its database.
Build for the Web, WhatsApp & Facebook Messenger
With Landbot you can reach your audiences truly anywhere and anytime... Catch them on the web as they browse your website or capture them with a conversational landing page when they click on one of your ads. Not enough? You can keep the conversation line always open by connecting with them using WhatsApp or Messenger bots, the most convenient of brand communication experiences.
Free deal
Accessible to all for free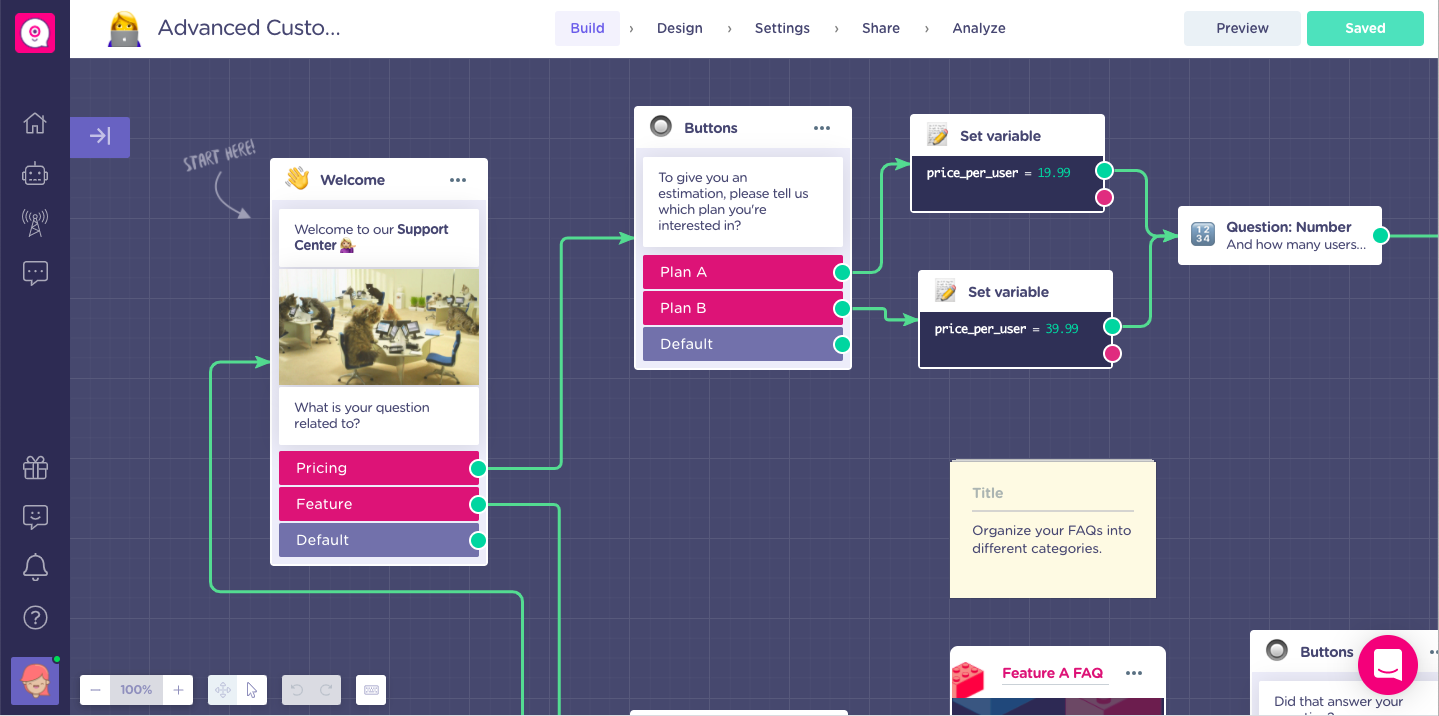 30% off on Starter and Professional monthly plans for 12 months
This deal is only available for new customers.
Get Access
Are you providing consultancy or resources on this tool?
Contact us at experts@joinsecret.com to promote your expertise to our community of startups
Contact us