General information
Build strong relationships with your audience through webinars and video meetings. At Livestorm we help companies get the most of their webinars. Our mission is to make your webinars simpler and more efficient. Livestorm is a webinar tool that functions 100% in your browser, and, besides the basic webinar requirements, we provide: advanced post-webinar analytics tools, audience segmentation capabilities, lead management system, native integrations with CRMs and marketing tools. At Livestorm, we strive to build the best experience possible for our users. We focus on design, high disponibility, and technical capabilities so that you only have to focus on doing great webinars for your company. We provide smarter webinars, you get better leads.
Your complete video communications toolbox
No downloads, plugins or add-ons. Everything you need is ready-to-use, from day one.
Video communications for any context
From personal video meetings to global webinar events, Livestorm has a solution for any setting.
Livestorm Webinars
Highly adaptable webinars with all the infrastructure in place to save you countless hours of setup.
Live webinars
Create interactive events with chat, questions and polls. Integrate with any tool. Send automated messages and more.
On-Demand webinars
Put your webinars to work with on-demand webinars. Allow anyone to register and see your pre-recorded webinars at their convenience
Automated webinars
Fully automate webinars by defining a workflow that will run during your webinar.
Livestorm Meet
Online video meetings made easy. Powerful calendar integrations and the Livestorm tech for peace of mind.
Instant meetings
Create online video meeting rooms that stay on all the time, join and invite people by sharing a simple link.
Scheduled meetings
Connect your calendar with Livestorm and automatically create online conference rooms for your meetings.
Livestorm features



Webinar Premium

Unlimited webinars

Unlimited moderators

Unlimited on-demand webinars

4h limit per webinar session




Meet Premium

Unlimited meeting rooms

Unlimited meetings

Up to 8 participants

Scheduled meetings (in beta)

Meeting recordings (in beta)
Basic deal
Accessible to Unlimited, Premium & Basic members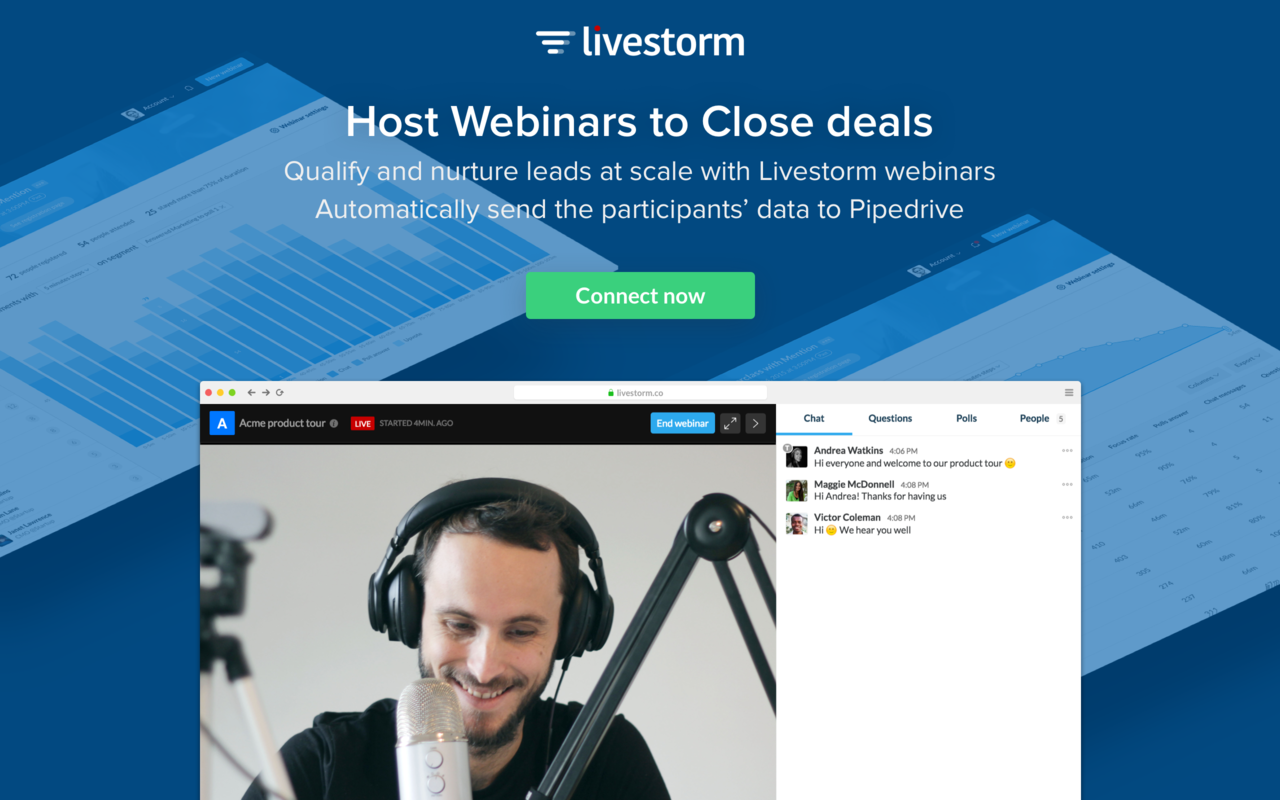 30% off for 6 months on any plan
This deal is only available for new customers.
This offer is reserved for new customers only that currently don't have an account for Livestorm. Livestorm's team will verify that you didn't have an account before. If you did, the offer will be canceled.
Subscribe to Basic
Are you providing consultancy or resources on this tool?
Contact us at experts@joinsecret.com to promote your expertise to our community of startups
Contact us