General information
With Quickbooks, sending invoices and tracking payments couldn't be easier. In just a few clicks, your personalised invoice is sent, and the platform informs you of any unpaid invoices so you can follow up with your customers.
Updating your expenses is just as easy by taking a photo of receipts / invoices and connecting your bank to track your cash flow in real time. You can quickly access your operations through the dashboard and reports, to improve the management of your business.
Secret's take
Looking for a tool that allows you to manage your invoices and keep your accounting up to date in a simple and time-saving way? You need Quickbooks. No more headaches and you can finally spend less time on accounting, and more time on other key tasks.
Quickbooks features
Collaborate, automate, and simplify all your accounting tasks
Adapt your billing to your needs

Send your personalized invoices and track their payment in order to schedule reminders in case of unpaid invoices

Keep your accounts up to date efficiently

Collaborate with your accountant from the platform and automate your tasks in accordance with your country's accounting regulations

Digitalisez toutes vos dépenses

Keep your account up to date by connecting it to supplier platforms, and scan your invoices with a picture to save them in Quickbooks

Monitor your performance

Get quick visibility of your performance with the available dashboard and reports

Monitor your cash flow and forecasts

Access your cash flow in real time by connecting Quickbooks to your bank in complete security, and access a cash flow forecast.

Automate your tax calculations

No need to manually calculate taxes on your purchases and sales, or on your payrolls, Quickbooks does it for you.

Access all your data on a single platform

Connect Quickbooks to your other tools, such as your e-commerce platform to centralize your data.
Free deal
Accessible to all for free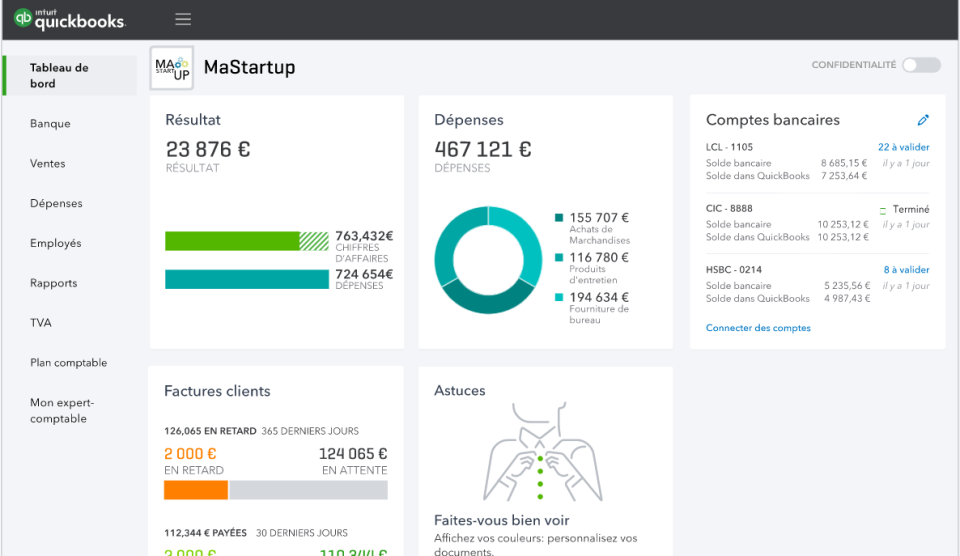 50% discount for 6 months on any subscription plan
Get Access
This deal is only available for new customers.
This offer is available only for French businesses.
Are you providing consultancy or resources on this tool?
Contact us at experts@joinsecret.com to promote your expertise to our community of startups
Contact us