General information
Headless Chrome
Render your web page as if it was a real browser.
We use the latest Chrome version with headless mode.
Focus on extracting the data you need, and not managing headless browsers.
JavaScript Rendering
We render Javascript with a simple parameter so you can scrape every websites, even Single Page Application using React, Angulars, Vue.js or any other libraries.
Rotating Proxies
Thanks to our large proxy pool, you can bypass rate limiting website, lower the chance to get blocked and hide your bots !
Use cases
ScrapingBee works great for general web scraping tasks like Real estate scraping, Price-monitoring, extracting Reviews without getting blocked.
For SEO, keyword monitoring. Scraping Search engine result page is extremely painful because of rate limits. Thanks to our large proxy pool, it's easier than ever.
Lead generation, extracting contact information, or social media. You can even use ScrapingBee directly from your lead lists on Google Sheet.
Basic deal
Accessible to Unlimited, Premium & Basic members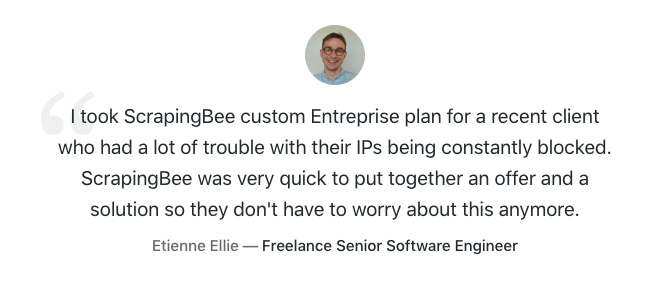 30% off any plan for 12 months
Subscribe to Basic
This deal is only available for new customers.
Are you providing consultancy or resources on this tool?
Contact us at experts@joinsecret.com to promote your expertise to our community of startups
Contact us