General information
For the first time in a bank offer, entrepreneurs can benefit at the same time from:
- A 100% online pro account, with a simple and intuitive app, to easily manage their business: Unlimited transaction history, real-time notifications, fully customizable Mastercard
- An administrative co-pilot, to accompany them from the creation of their company to daily management: Simplified accounting management, calculation of expenses and administrative reminders
- Unique insurance included, to protect themselves, their equipment and their business: Mobile insurance, extended warranty on your equipment, hospitalization insurance, legal assistance.
- Experts available 7 days a week to answer all their questions: about our service, but also about their legal status, or their administrative tasks.
Secret's take
Shine is the online bank for individual entrepreneurs and small businesses that helps them manage their finances easily. When you're already short on time and resources, managing your business account shouldn't be a barrier to growth. With Shine, you can finally focus on your business instead of managing your expenses.
Shine features
The benefits of Shine
100% online pro account

Open an account in a few clicks; one-time and standing SEPA transfers; SEPA direct debits; payment terminal; check cashing.

Bank cards

100% customizable virtual and physical MasterCard (cap, etc.); secure payments; real-time notifications.

Simplified accounting

Automatic reminders of documents that have to be attached; documents stored and accessible at any time; automated exports

Integrated billing tool

Professional estimates; creation of invoices from estimates in one click; sending and follow-up of invoices; automatic reminders; online collections.

Business loans

Loans are released in 72 hours at preferential rates for your premises, your equipment and the development of your business.
Free deal
Accessible to all for free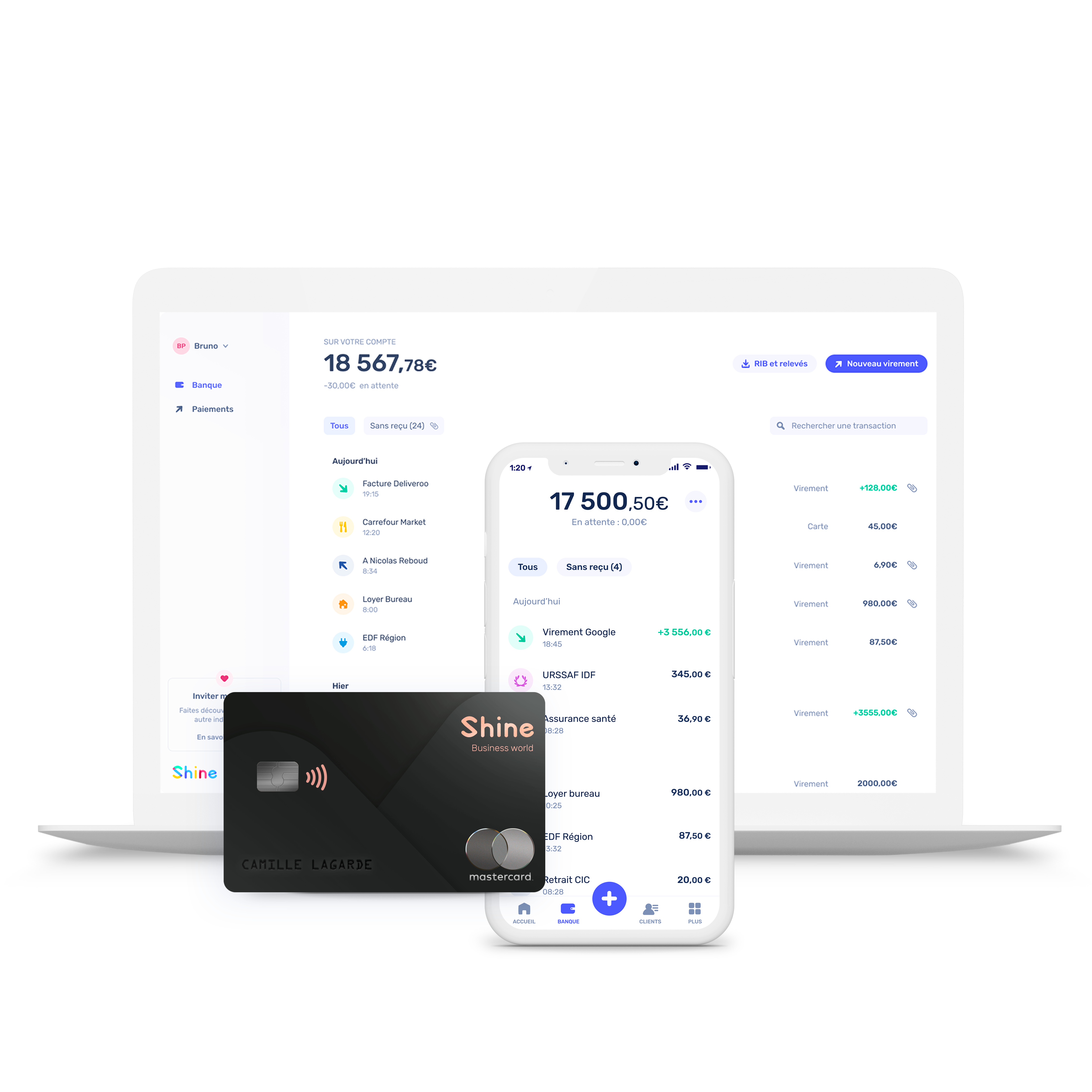 3 months free on Premium plan
Get Access
This deal is only available for new customers.
Are you providing consultancy or resources on this tool?
Contact us at experts@joinsecret.com to promote your expertise to our community of startups
Contact us