General information
Slite allows you to organize your documents, share them with other team members, and collaborate on them, clearly and easily.
Choose the organization and structure that best suits your team to start sharing, editing, live or asynchronously.
All your important documents are centralized in one place: you will never lose important information again.
Finally, you can organize your team's work via this performance hub. Everyone knows what they have to do and what their deadlines are. Work with transparency.
Secret's take
The problem with working remotely is that teamwork usually becomes more complicated. You can't get together in a room, scribble a model or a plan of action on a piece of paper, exchange ideas and edit said piece of paper live, then agree and settle the matter in an hour. Except that with Slite, well, you can: you can do exactly that same collaborative work remotely and ultra-efficiently.
Slite features
Work better as a team
Tables

Create charts, assign tasks and manage projects more efficiently as a team.

Mentions

Comment on documents and mention your colleagues to request feedback or action from them.

Documents

Add all your documents directly into Slite to create a collaboration hub for your team. All information in one place.

Drawings and drafts

Create landing page mockups or a visual representation of your future business processes. Show your colleagues what you have in mind in a few minutes.
Basic deal
Accessible to Unlimited, Premium & Basic members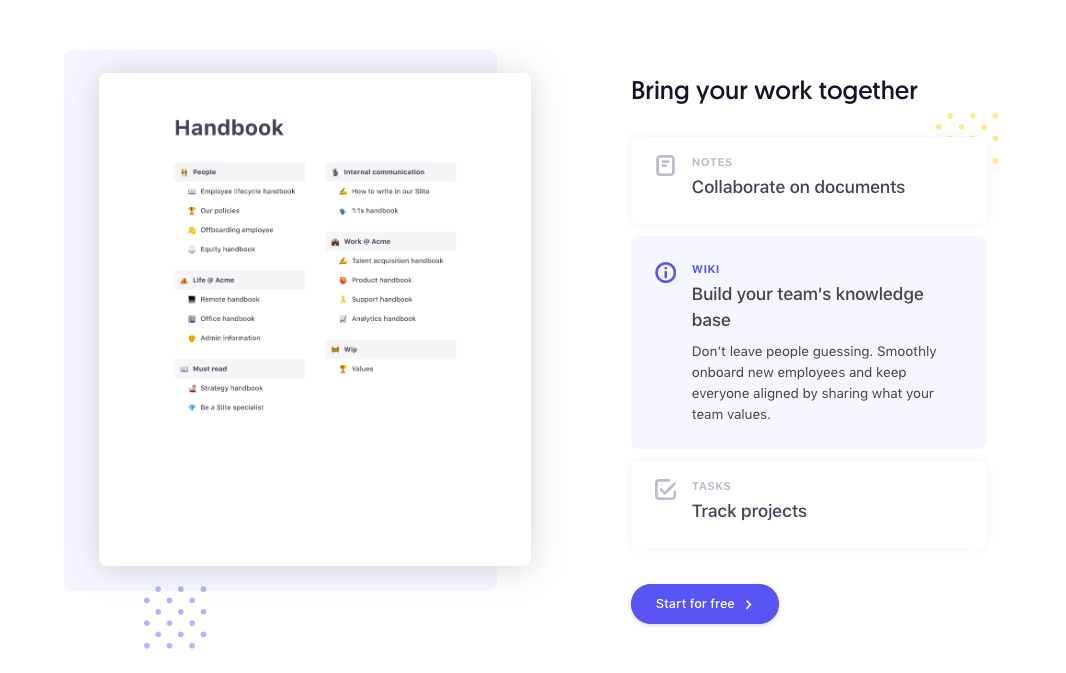 6 months free up to 10 users
Subscribe to Basic
This deal is only available for new customers.
Are you providing consultancy or resources on this tool?
Contact us at experts@joinsecret.com to promote your expertise to our community of startups
Contact us