General information
With SnapCall, not only are customer calls more efficient, but their satisfaction is also enhanced. They can reach you quickly and even rate the quality of the call.
So that your team doesn't receive tons of calls, it is also possible to segment targets and only give access to the calls to some of them. The platform quickly collects data from your users so you can best respond to their issue.
Secret's take
Facilitate customer communications by enabling instant calls from your website. Not only does it make life easier for your customers and users, you ensure that you only need to take high value calls thanks to the smart voice support feature. Wins all round.
Snapcall features
Optimize customer communications and improve satisfaction.
Record calls

SnapCall allows you to record your exchanges and then listen to them again, to better meet your customers' needs.

Access data analysis

The interface offers you statistics on calls received or made, user behavior, location, satisfaction and much more.

Offer targeted voice assistance

Choose the target clients you want to give the option to call you, as well as the stage in their journey where this opportunity occurs. You can also choose your available times for these calls.

Get all the information you need for your call

The tool gives access to information about the customer making the call including: their location, their previous interaction history with your company, their purchase intent, etc.

Give access to calls from your website or app

Offer your customers the option to contact you from any page of your website. You can customize the call button and your customers will just have to click on it.

Implement smart call buttons

Connect your call button to specific agents and their numbers, or to your other tools such as Zendesk.
Basic deal
Accessible to Unlimited, Premium & Basic members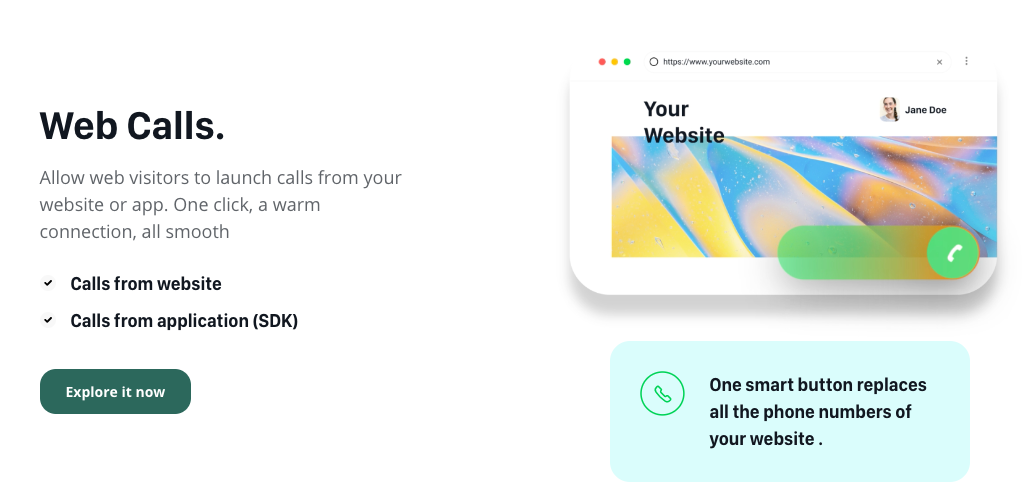 6 months free on Growth plan
Subscribe to Basic
This deal is only available for new customers.
Are you providing consultancy or resources on this tool?
Contact us at experts@joinsecret.com to promote your expertise to our community of startups
Contact us