General information
Smart voice support. Focus on high value clients only. Snapcall adds voice to the digital ecosystem with a web-based call button that changes everything. Simplify, multiply, convert web leads. The idea is to re-invent sales and customer relations on the Internet. In one click the user gets his answer. Placed at the strategic points of the website, the button multiplies the qualified leads. With an immediate response to questions and personalizing the customer relationship through the context conversion rates are boosted. This unique innovation is a simple solution, with powerful functions, for a controlled budget. This is the future of customer relations in the digital world.
--
Web Calls.
Allow web visitors to launch calls from your website or app. One click, a warm connection, all smooth
Smart voice support.
Focus only on high value calls and customers. Automate and filter your voice support according to: Customer journey Customer attributed value Customer segmentation and profile
Customer data in calls.
Extract key data from their web session and learn what you need to know even before picking up the call.
Basic deal
Accessible to Unlimited, Premium & Basic members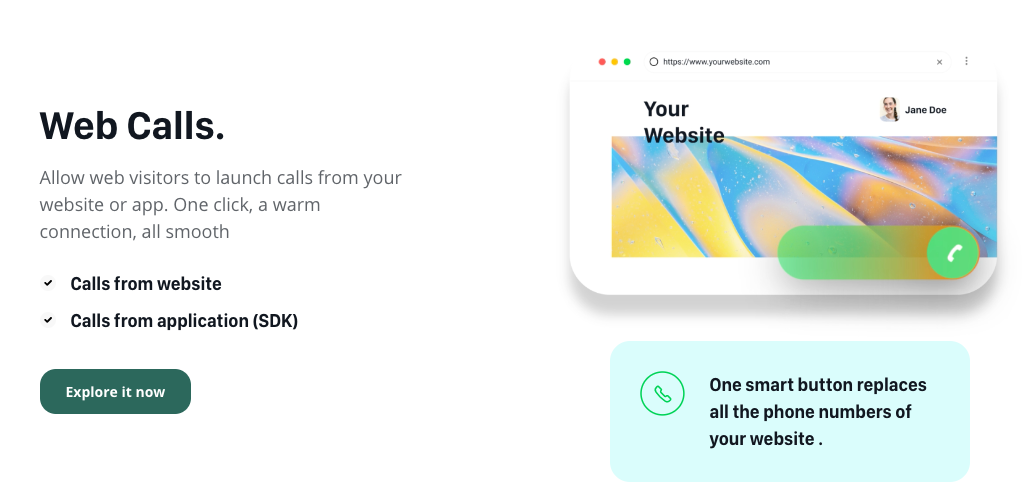 6 months free on Growth plan
This deal is only available for new customers.
Subscribe to Basic
Are you providing consultancy or resources on this tool?
Contact us at experts@joinsecret.com to promote your expertise to our community of startups
Contact us