General information
With Social Champ, optimize your productivity on social media and save time; create posts from the tool and plan their publication dates, months in advance. Messages received, comments and interactions are also gathered so you can respond quickly and efficiently, or set up automated responses.
Finally, you get the opportunity to download performance reports customized to your company's image, and make month-to-month comparisons for example.
Secret's take
Managing your social presence on multiple platforms can be time consuming particularly for small businesses and startups. With Social Champ you can manage your publications on all your platforms, as well as audience interactions in a single interface. Optimize your online presence and your customer relationships without wasting time.
Social Champ features
Manage publications on all your social media channels quickly and efficiently.
Create and publish posts on all your social media accounts

Social Champ allows you to create posts directly from the platform and schedule them for multiple social networks.

Boost reactivity and engagement with your audience

Gather all of your audience interactions into one platform. Assign messages to specific team members or schedule automated responses for certain recurring messages.

Manage post publications and scheduling

Thanks to Social Champ's calendar you get a clear view of your planned posts, but you can also quickly edit it with the drag and drop editor.

Analyze performance for further improvement

Access performance reports and compare results over weeks, months or years.
Basic deal
Accessible to Unlimited, Premium & Basic members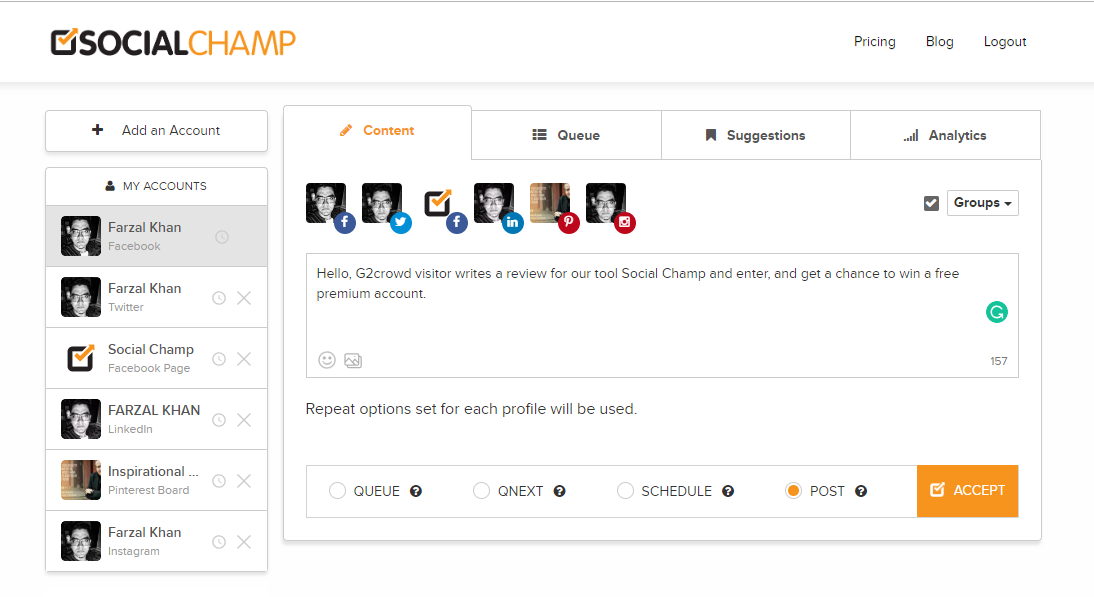 Are you providing consultancy or resources on this tool?
Contact us at experts@joinsecret.com to promote your expertise to our community of startups
Contact us