General information
Stop wrestling with UI libraries, hacking together data sources, and figuring out access controls. Start shipping apps that move your business forward with Retool.
Retool provides a complete set of powerful building blocks out of the box. Spend your time getting UI in front of stakeholders, not hunting down the best React table library. Assemble your app in 30 seconds by dragging and dropping from Retool's pre-built components.
Read or write data with queries. Retool manages all the hard stuff. Read in data from MongoDB, join it to Postgres with SQL, and POST the result to Stripe's API. You only write the things that are custom to your app.
Retool is highly hackable, so you're never limited by what's available out of the box. If you can write it with Javascript and an API, you can build it in Retool.
Connect to most databases or anything with a REST, GraphQL, or gRPC API, like Salesforce, SendGrid, Stripe, and Twilio. Retool empowers you to work with all of your data sources seamlessly in one app. Your data is always stored by you. When a query is run, the Retool backend proxies the request to your backend.
Get started building your internal tool in minutes!
Premium deal
Accessible to Unlimited & Premium members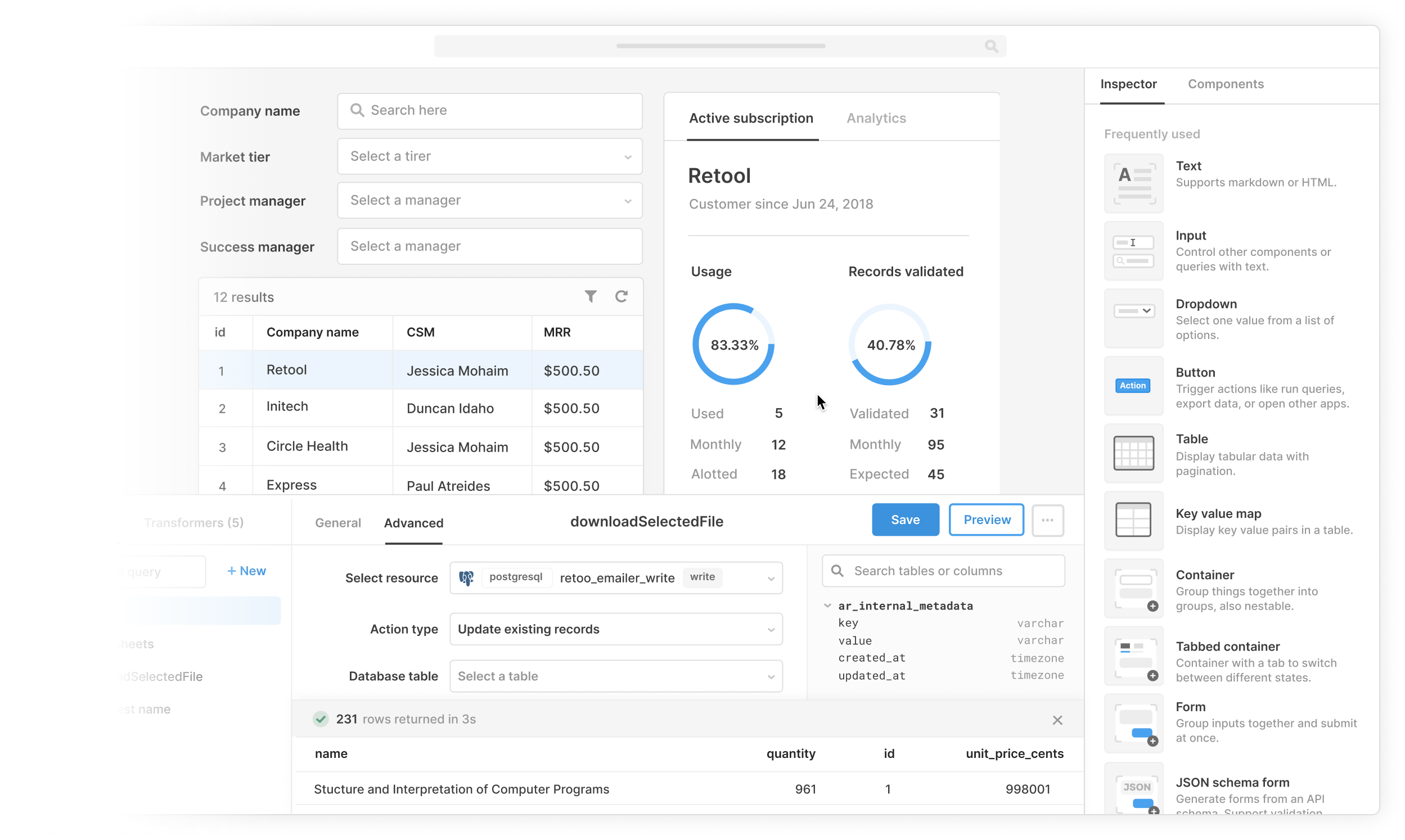 $1000 credits (12 months validity)
This deal was redeemed 35 times during the past 90 days.
Upgrade to get deal
This deal is only available for new customers.
Retool features
Dashboards

Retool gives you chart components and the tools to manipulate your data and make it actionable. Help guide effective decision-making by annotating your KPIs and metrics, track by Retool's Dashboard

Admin Panels

Save hundreds of hours with pre-made templates, integrations, and components. Every admin panel is unique but Retool gives you the core components with flexibility around triggers, styles, filters, and whatever else you'd be building
Are you providing consultancy or resources on this tool?
Contact us at experts@joinsecret.com to promote your expertise to our community of startups
Contact us