General information
SeedLegals is Europe's leading SaaS platform that automates all the legal to help companies close funding rounds faster, hire and manage employees, award equity to their team, and more… We're the operating system for your company, and we've already transformed how more than 15,000 startups run and grow their businesses.
Secret's take
Have you had enough of paying lawyers crazy amounts of money for the old documents and deadlines? SeedLegals has which is why they decided to change it.
With the help and support of SeedLegals' legal experts, you can get investment ready and grow faster.
Premium
Accessible to Unlimited & Premium members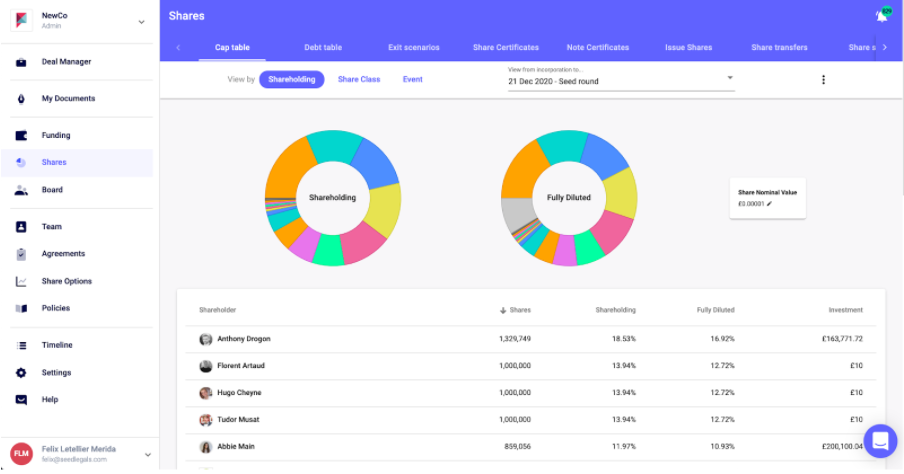 25% off your annual subscription plan
This deal was redeemed 3 times during the past 90 days.
This deal is only available for new customers.
SeedLegals features
Create, negotiate and sign all your legal agreements for your funding round.
Fundraising made simple

We power the legal process behind more funding rounds than anyone else. From your first investment, to your Series A and beyond, SeedLegals gives you everything you need to close your round fast and reliably, with expert legal support on hand every step of the way. Create and issue your digital term sheet and close your round more than 50% quicker than with traditional lawyers.

Start your company right

Easily create the legal documents you need to start your company and hire your first employees. Our customisable employment and founder agreements make that super easy. Manage your equity the right way, our dynamic cap table automatically keeps tabs on who owns what.

Reward your team with equity

SeedLegals helps thousands of British, French and Irish companies create and manage their option scheme. Instead of hiring an accountant, create your scheme and grant letters in just a few clicks and make sure your employees get the best possible EMI valuation discounts with HMRC.
Are you providing consultancy or resources on this tool?
Contact us at experts@joinsecret.com to promote your expertise to our community of startups
Contact us