General information
Plus besoin de perdre du temps dans la gestion administrative de vos employés. Avec PayFit, les fiches de paies sont générées automatiquement, calculées sur le temps de travail réalisé par les employés. Évidemment les taux de cotisations sociales et prélèvements à la source sont mis à jour automatiquement tous les mois et intégrés dans les paies. Elles sont ensuite consultables à tout moment par vos employés, et il en va de même pour les primes.
Plus besoin de vous prendre la tête non plus pour gérer les congés de vos employés : ils peuvent choisir la date sur la plateforme et vous, ou l'un de vos managers peut les valider par la suite.
Ce n'est pas tout, accordez-vous une vision globale de votre organisation et créer des organigrammes visibles uniquement par vous ou par les personnes de votre choix, de vos équipes.
Secret's take
Having employees requires administrative management which takes a lot of time. You have to prepare their payslips, deal with HMRC RTI and pension submissions and manage their holidays amongst other things. Automating some all of these tasks would be a real time saver. And PayFit does it for you: spend less time on administrative management, and more on growing your business.
PayFit features
Optimized space for your payroll and HR management.
Access your personal portals

Your employees have access to their own portals where they can submit and manage their leave, expenses reports, or view their payslips and working hours at any time.

View your company's organisation charts

Define the hierarchical levels and rights of each member of each team, and give access to the people you choose. This is an advantage for new employees who do not yet know the staff.

Optimized onboarding experience

Add a new member to your team with ease, and create to-do lists of documents you will need from them. All the employee has to do is upload them to PayFit.

Manage payroll

Payslips are generated automatically each month. Paying salary couldn't be easier thanks to the instant bulk payment.

HMRC RTI and Pension

The platform automatically assesses if your employees are eligible for pension and sends the enrollment letters automatically. It also handles your RTI submission itself.

Download Reporting

Export your company's important data: accounting exports, customised reports.
Free deal
Accessible to all for free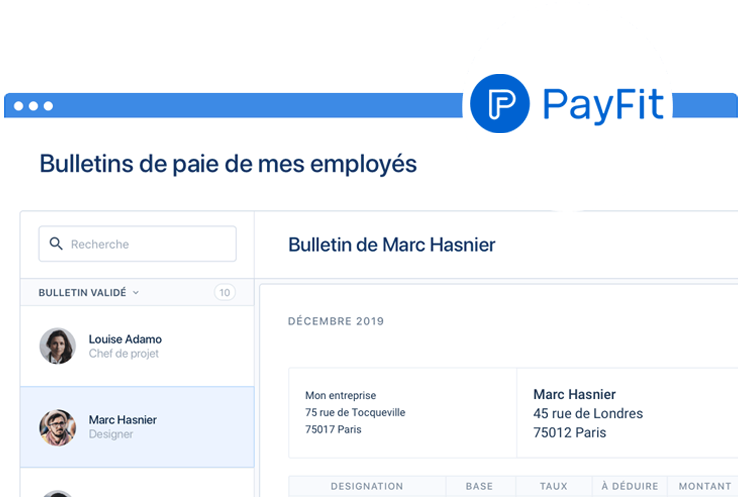 1 month free on the Starter plan (€39)1 month free on Standard and Advanced plans (€99)
Get Access
This deal is only available for new customers.
Only startups that have not issued payslips in the past are eligible to the Starter plan
Are you providing consultancy or resources on this tool?
Contact us at experts@joinsecret.com to promote your expertise to our community of startups
Contact us