General information
Powerful Features to Automate Your Sales Engagement Process
< Single-hub for all your Prospecting activity >
Prospect Database
Create prospects manually or import from CSV files, Google Sheets or directly from your CRM. Use Klenty as a simple dashboard to maintain all prospect records.
Duplicate Detection
Never worry about dealing with redudant records. Klenty does not allow duplicate records in your Prospect database.
Custom Fields
Create unlimited custom fields to add more information to your prospect records and use them as smart place holders.
< Multi-channel engagement >
Setup Emails, Tasks & Calls
Create automated workflows including Emails, Calls and Tasks and eliminate all the repetitive tasks of reaching out to your prospects.
Automated Follow-ups
Create a sequence of automated follow-ups for your cold prospects and take over only when they become warm leads and are ready to engage.
Smart Placeholders
Make use of unlimited placeholders in your email campaigns to send highly personalized emails at scale.
< Automated CRM Workflows >
Auto-import Prospects
Set up auto-import to automatically import prospects from your CRM and run email campaigns.
Auto-Sync email engagements
Create a copy of all your email engagement data back to your CRM to stay updated with your campaigns, without having to log back to Klenty every time.
Advanced Workflows
Take sales automation to another level using Triggers and Actions. Create advanced workflows to update the CRM automatically based on a specific action in Klenty.
< Powerful Reports and Analytics >
Email Engagement Metrics
Keep a tab on prospects interested in your emails based on key email engagement metrics such as opens, link clicks, and replies.
A/B Testing
Perform A/B testing with your email campaigns to identify what templates work best and plan your email campaigns accordingly.
Auto-detection of Bounces, Auto-Replies
Detect bounced emails, automated messages to identify whether your emails are reaching your prospects inbox and plan your campaigns accordingly.
Basic deal
Accessible to Unlimited, Premium & Basic members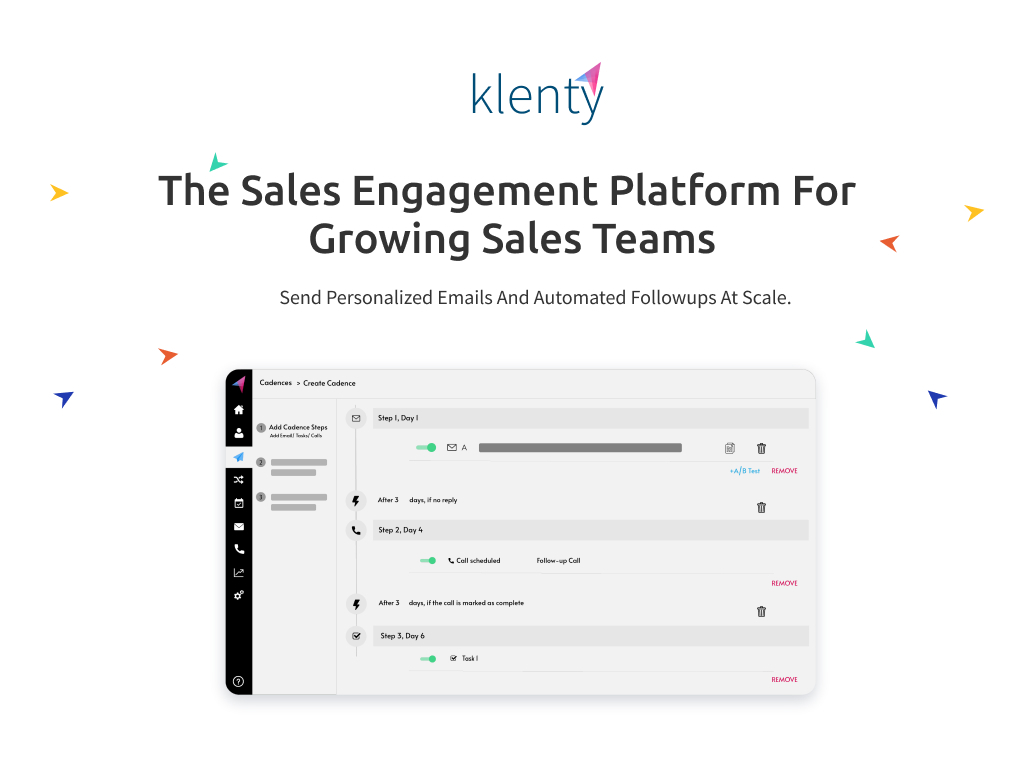 30% off any plan for 6 months
Subscribe to Basic
This deal is only available for new customers.
Are you providing consultancy or resources on this tool?
Contact us at experts@joinsecret.com to promote your expertise to our community of startups
Contact us