General information
Founded in 2010, Pipedrive is the first CRM platform developed from the salesperson's point of view. Inspired by proven methods of experienced sales people, Pipedrive engineers developed a platform that helps salespeople and teams focus on learning and repeating their most effective process to close deals. By bringing together the tools and data, the platform focuses sales professionals on fundamentals to advance deals through their pipelines. Pipedrive helps to provide management and sales teams with more timely, detailed, and accurate sales reporting and revenue projections. Our goal at Pipedrive is to make sales success inevitable - for individual sales people and teams.
BE ABLE TO SELL MORE, FASTER
Leads
Get more hot qualified leads fed straight into your pipeline around the clock from your custom chatbot and web forms
Speed
Free up your day to close more deals by automating and tracking sales interactions with synced emails, calendars and calls
Focus
See what works and ditch what doesn't with pipelines, dashboards, personalized sales tips and a dedicated manager app
WHAT MAKES US DIFFERENT
Easy to set up
Pipedrive is rated the easiest sales tool to implement by the leading software review site, G2Crowd. With us there's no 200 page list of functions, and no two day training required. Just log in, fill up your pipeline and start selling.
Our users love us
We believe in selling. It's in our DNA, and we've lived and breathed it for decades. We made a product that makes selling beautiful. It's visual, intuitive, customizable, and our users actually choose to stay logged in constantly. Now that's really beautiful.
Totally hooked up
From proposals to e-signatures to automatic lead scoring. With 100+ of your favourite apps and integrations available in the Pipedrive marketplace, you can arm yourself with everything you need to sell with certainty.
Pipedrive features
Contact & Account Management : Store and retrieve information associated to customer contacts and accounts. Track company-wide communication and information about contacts and accounts.

Partner Relationship Mgmt: Manage partners by tracking channel partner leads and sales opportunities. Provide a partner portal to collaborate with channels on sales opportunities and to share product, pricing, quoting, ordering, and training information

Opportunity & Pipeline Mgmt: Manage sales opportunities through their lifecycle from lead to order. Track stages, values, and probabilities of close. Manage sales pipelines by individual sales rep, team, region, and company-wide.
Premium deal
Accessible to Unlimited & Premium members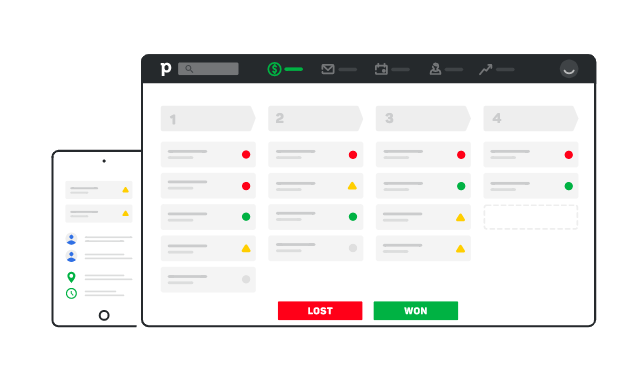 Are you an expert or an agency on this tool?
Contact us at experts@joinsecret.com to promote your expertise to our community of startups
Contact us