General information
Intercom's the one tool you need to reach your customers across every step of the lifecycle. It lets you understand who your customers are and their journey so you can better segment and target them: create bots on your website, schedule meetings, chat in real-time, send e-mail or even push notifications, and more. Intercom will help you enhance your conversions and sales while strengthening your customer relationships.
Secret's take
To convert users, and satisfy customers, you have to be available to answer questions, queries and provide support. Intercom is the tool that will allow you to be present from the begining of their journey to the purchasing decision and beyond. Answer and communicate with your customers across all platforms when they need it, and improve lead conversion and user satisfaction.
Free deal
Accessible to all for free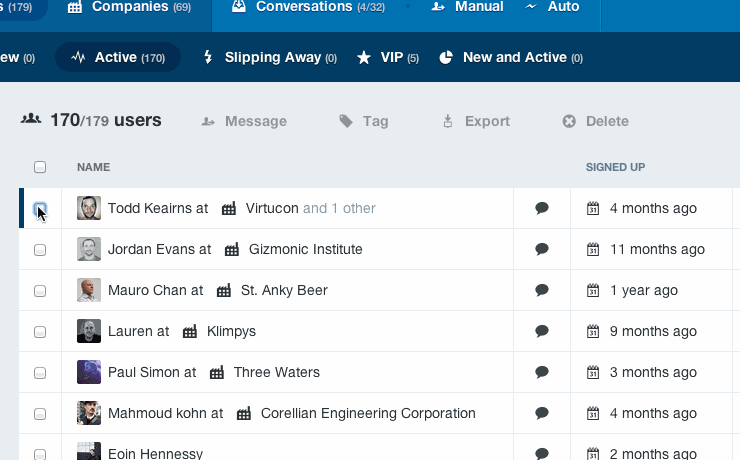 95% off on the Advanced Intercom features and on the Early Stage Academy
This deal was redeemed 113 times during the past 90 days.
Eligibility requirements
Early-stage: Up to $1M in funding and less than 2 years old
Small team: 5 employees or less
Currently not an Intercom customer
This deal is only available for new customers.
Intercom features
Communicate efficiently with your customers through their journey and never miss an opportunity again.
Collaborate with your team

Create share inboxes for your different teams (sales, marketing, customer success) and work together, using notes and mentions, to answer specific customer questions.

Automate conversations

Set-up chat bots easily on your website and app to deliver automated answers quickly

Chat with your customers in real time

Schedule meetings or give selected customer segments access to a chat box and communicate with them in real time.

Access data to personalize customer conversations

Intercom gathers all the customer's data so you immediately know who you are talking to, and the actions they have taken on your website.

Easily onboard new customers

Create product tours to guide your customers through your website and your products.
Are you providing consultancy or resources on this tool?
Contact us at experts@joinsecret.com to promote your expertise to our community of startups
Contact us