General information
The SimilarContent app is the best content optimization solution that will help you write more relevant content that has been optimized for the best possible SEO results.
The app analyzes your content, website competition, and target keywords to find the most relevant and comprehensive list of long-tail search terms.
The app also predicts what Google thinks of your article before it's published, so you can save time and money by knowing if the content will rank for the keyword.
Secret's take
Do you want your webpage to rank higher than others in search results? Are you not sure of what keywords you should use?
SimilarContent helps you create SEO-optimized SEO content that is likely to appear on the first page of Google's search results with real-time relevance scores.
Basic deal
Accessible to Unlimited, Premium & Basic members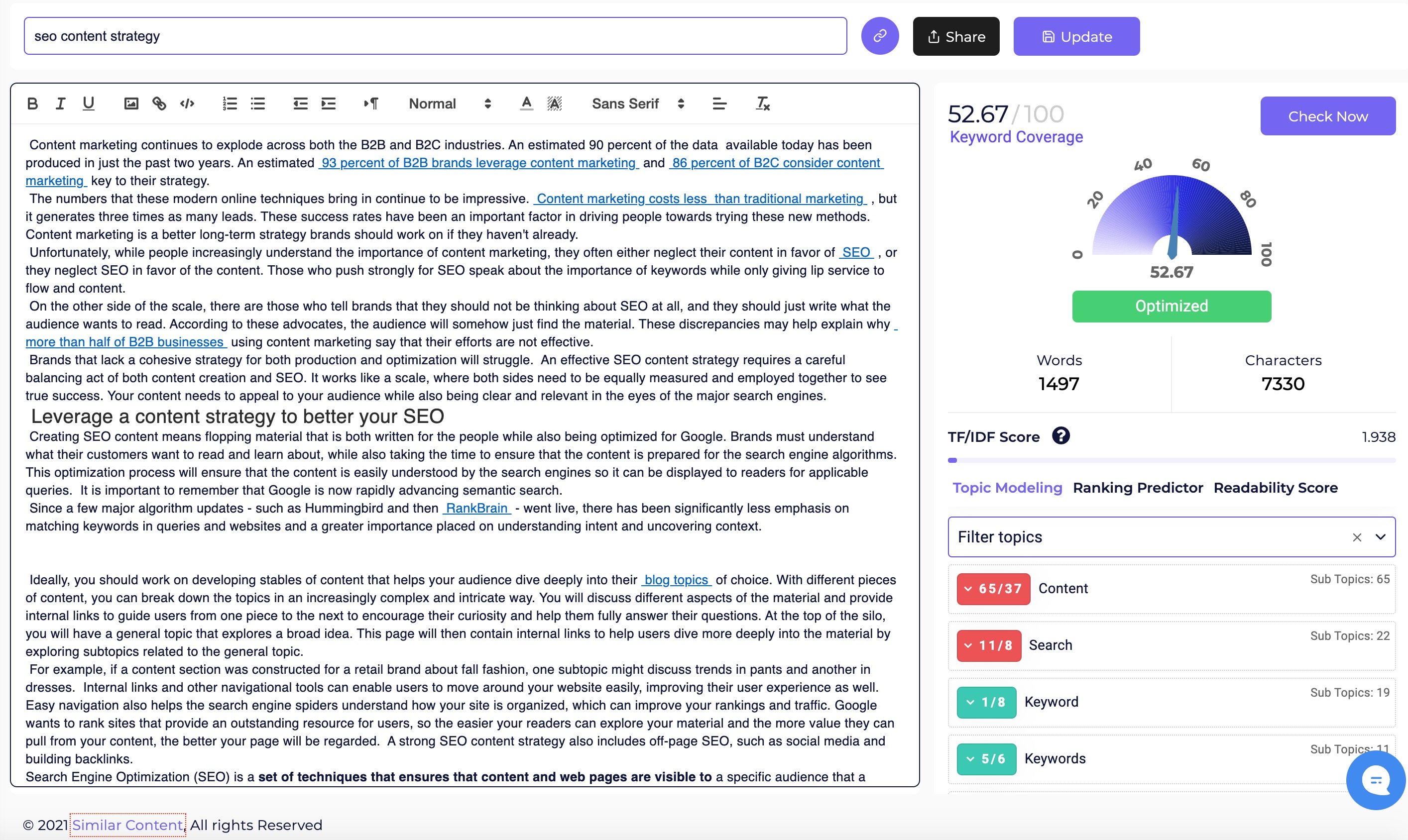 3 months free on the Business Plan
This deal was redeemed 11 times during the past 90 days.
Upgrade to get deal
This deal is only available for new customers.
SimilarContent features
Higher rankings for your webpage
Real-time LSI Keyword Research tool

Include words and phrases that search engines and your customers both understand and love.

Readability checker

Engage your audience with readable content. Improve your site's SEO by making content more meaningful to search engines and more readable by visitors.

Ranking predictor

Predict where you'll rank. Ranking Predictor is an innovative tool that uses machine learning to predict the keywords that your content will rank for, even before you publish it. All of the data is powered by machine learning.

Topic Ideas Generator

SimilarContent helps you brainstorm new content ideas and outlines the steps needed to create more on-site SEO content on your site.






Are you providing consultancy or resources on this tool?
Contact us at experts@joinsecret.com to promote your expertise to our community of startups
Contact us